You know what I discovered on book tour: AMERICA HAS GONE TO THE FUTURE. I was there two years ago but in the meantime America advanced about a decade. Now you use your phone to carry boarding passes and movie tickets. When you need a ride somewhere, you summon cars with an app. I tried to buy a sandwich in New York and the store didn't take cash. DIDN'T TAKE CASH. I met two people who don't carry wallets any more, just credit cards. In two more years, I guess, they will just carry phones.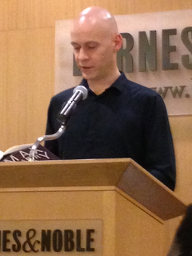 Now I'm home in Melbourne, Australia, I'm all, "Ugghhh, stores that only take cash, how 2011." I just bought some sushi and it seemed really stupid, handing over a twenty and trusting the cashier to remember and figure out the right change. That process is fraught with potential errors. If we didn't already do it like that, and somebody invented it, it would seem like a terrible idea.
Besides marveling at technological process, I was in the States to read and sign books. During my New York event, a person asked, "What's the worst thing about being an author?" At first, I was overwhelmed by things to bitch about, like, just that morning, I had really felt like some wheat-based cereal, but my fancy hotel restaurant only did Granola. This is the kind of rough justice I'm expected to put up with on book tour.
But beyond that, there was the whole thing about having a career that occasionally seems like it's about to dissolve into nothingness, which is sporadically terrifying, and sometimes I write things nobody likes, which is disappointing, and working on the same idea for years at a time can be challenging, too.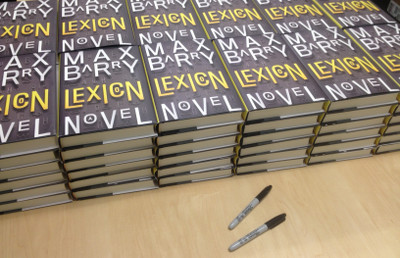 I didn't catalog these pains, though, because they were hard to justify in the face of a room full of people who had all come out to see me and buy my books so I could keep writing stories for a living. That is just plain awesome. I think I'm getting more appreciative in my old age, by which I mean less deluded about how rare and special this is, getting to write books and have them published and people liking them. Thank you so much to everyone who reads my stuff, and comes to see me, and tells other people my books exist.
Speaking of which! I don't know how you politely slip into conversation that you've received a crapload of positive reviews, but CHECK THIS OUT: a crapload of positive Lexicon reviews! You have to admit, that's a lot. Even I feel like buying a copy after reading that.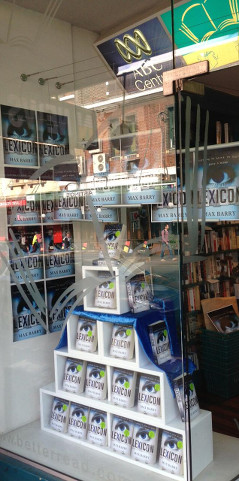 If you have bought a copy, and now you have questions, you might want to join the @Penguinusa Twitter Book Club and tweet questions at me. The first session is Tuesday 7pm EST (US).
Another thing I'm doing is fielding outrage from librarians. At the end of Lexicon are Acknowledgments, which contain this:
And, hey. You. Thanks for being the kind of person who likes to pick up a book. That's a genuinely great thing. I met a librarian recently who said she doesn't read because books are her job, and when she goes home, she just wants to switch off. I think we can agree that that's as creepy as hell. Thank you for seeking out stories, the kind that take place in your brain.
This sparked some amount of LIBRARIAN RAGE, expressed via email and Twitter. In retrospect, I should have seen coming, because I am married to a librarian and know how they work. See, librarians come in two flavors: Kick-Ass Librarians and Mundane Librarians. Kick-Ass Librarians love books with a deep and fiery passion, and have firm opinions about censorship, and will cross burning coals and defeat ravenous lions in order to deliver an age-appropriate book into the hands of a willing reader. Mundane Librarians—of which there are very few, compared to Kick-Ass Librarians—just do the job. To them, books are rectangular things that need to be scanned and filed. When I say it like that, it doesn't sound so bad. But to Kick-Ass Librarians, a Mundane Librarian is a new mother in a Birthing Ward who says, "Yeah, I just had a baby. He's around here somewhere." It tears at the insides of Kick-Ass Librarians that these people are entrusted with the care of books (and readers!). And it burns them up to think that people believe all librarians are like that: Mundane.
So I am sorry for not being clearer about that, Kick-Ass Librarians.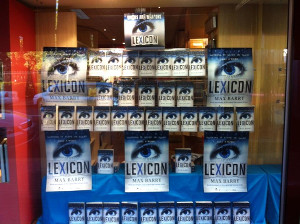 Finally! Are you Australian? Do you want to win a copy of Lexicon? Do you sometimes lie awake, regretting things you did in high school? If you answered YES to at least two of these questions, and they were the first two, post a comment here on maxbarry.com plaintively begging and/or arguing the merits of your case! The Australian publisher is kindly letting me give away five copies. Entries close Friday 5pm!
Also! I just saw a minute ago that Syrup is opening in Canada this weekend in Toronto and Calgary! That is literally all I know. I know this seems like an incredibly stealthy way to release a movie, not telling anyone where it's playing, but that's because you don't understand marketing, and apparently neither do I. OH WAIT I just sleuthed out some info: Friday in Toronto at Carlton Cinemas. You can even win free tickets.
And that reminds me! Sorry, I have to mention this, too. While I was in the US, I managed to collect two movie souvenirs. One is a can of Fukk, which by rights belongs to Mat Coad, because he won a competition to design a Fukk can on this site six years ago. The other is the book "Lipstick Lesbians… And Why Men LOVE Them! (A Girl's Guide to Giving Straight Guys a Hard Time)," which Scat discovers in 6's apartment: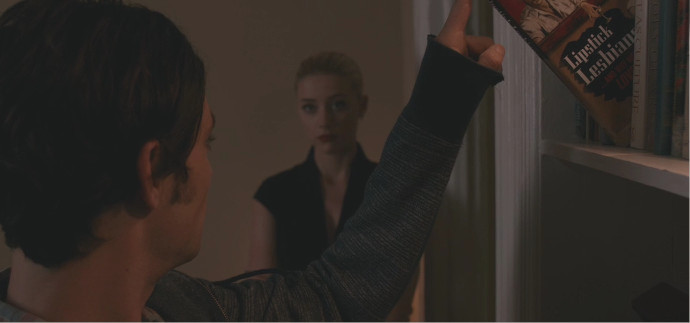 As it turns out, the designer of this prop, whose name I'm going to put here as soon as I discover it, not only did an amazing job creating this work of art, but also embedded jokes on the rear side:
Which I just think is awesome. Also, apparently he used The Scarlett Pimpernel as a template.