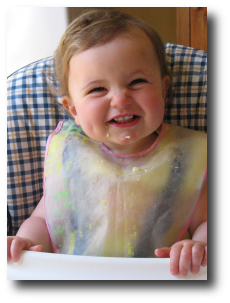 Last night I sat down with Fin to read her a bedtime story, and she did the most amazing thing. She reached for the book, but two of her fingers were caught in her sleeve, so first she stretched her arm straight out, popping her hand free, then took the book.
Maybe that doesn't sound so amazing. But I was flabergasted. It was so grown up. When I first saw Fin, she was seven cells. I saw her on a TV monitor, while Fin herself floated around inside an IVF doctor's syringe. For the month prior to that, she was in frozen storage (and for this reason was called "Popsicle" during most of the pregnancy). She was seven cells. And now she can free her hand from her sleeve and climb stairs and wave at trains and moo at pictures of cows.
She's 14 months old today. I know they grow up fast. But: wow.