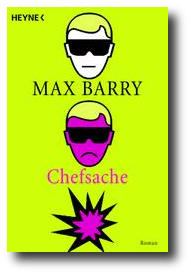 In the comments of my last blog, member Ralf observed that there's a German edition of Company coming out, and they've posted the cover online. I'm glad I have people like Ralf to tell me these things. He's more up-to-date with what's happening in my career than I am. From now on I'll get him to write my blogs.
The German cover is very interesting, because I have absolutely no idea what it means. Now, I'm used to foreign publishers making inexplicable changes that I can only hope make more sense in their native language and culture. Especially if it's the Germans, who are yet to publish a book of mine with anything even vaguely resembling the original title. (Syrup became "Fukk" and Jennifer Government is "Logoland".) Because "chefsache" does not, as you might assume, mean "company." It means "top priority case."
My guess is that it must be common German management-speak, like "action items" or "Let's take this offline" or "We've outsourced your job to India." But the cover is more perplexing. I honestly can't figure it out. And I'm usually good at this kind of thing. Once in high school I sat for an IQ test where they gave me sets of cards with pictures on them, and I was asked to arrange them to make logical stories. I scored lower on that test than anyone. My problem was that I kept seeing logical stories that weren't there: I would arrange my cards in a sequence that made perfect sense to me—that spun tales of pathos and drama, of tragedy and triumph—and look proudly at the teacher only to see her eyes flick down to the answer sheet, and return, sympathetically, to meet mine. After that, they wouldn't let me near sharp objects.
But this one is a mystery to me. Is that guy exploding? Why? And why is he wearing sunglasses? Help me out here: what do you think this cover means?