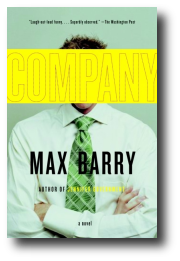 It's still a long way off, but preparations are being made for the release of Company in paperback in the US. Here's what I know: it'll probably be March 2007, published by Vintage, and sport this nifty cover.
Publishers almost always change book covers from hardcover to paperback; I don't know why. Maybe they hope that people with bad memories for titles will buy it twice. Jennifer Government was an exception, but only because I managed to convince them not to change it to this.
I think the donut cover was great, but I like this new one, too. It's got a nice, dehumanizing note to it, and avoids showing anybody's face (which I really hate). Also—although of course this doesn't influence my feelings in any way—my name is kick-ass big.
There's also talk of sending me on book tour in early April, although exactly where won't be decided for a while yet. (If you are particularly keen to bring me to your city, it is apparently quite effective to visit a local bookstore that hosts author events, and tell them you want me. That is, that you want them to host me. Then the bookstore tells my publisher they're interested in having me, and my publisher considers flying me in. This works for authors besides me, of course, so if you wanted you could probably arrange for all your favorite writers to be practically shipped to your doorstep. Although it helps a lot if they are not too famous.)
I wish I had news about publication outside the US—in Britain and Australia in particular—but… I don't. I really hope we can fix that.