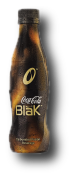 In my novel Syrup, the hero comes up with an idea for a new cola called "Fukk," which comes in a jet black can. He sells the concept to Coca-Cola (well, kind of), and the company releases it.
I'm hoping there will be a Syrup movie in the not-too-distant future, but Coke is making me nervous by releasing products that are increasingly like Fukk. The latest is "Blak." It's a black bottle, not a can, but still: I'm becoming convinced that their plan is to creep toward a Fukk-like product, then sue me for stealing their idea.
Incidentally, I visited the Blak web site and noticed it has a "Spread the Word" section. Coke is clearly excited about this, because if you visit any of the other sections, you see a big link back to "Spread the Word." It turns out that Spreading the Word is sending e-mails to your friends to tell them about Coca-Cola Blak. I would be very interested to know if the number of people who use this facility is greater than zero.
Update: They do sell it in a black can! Aaargh!