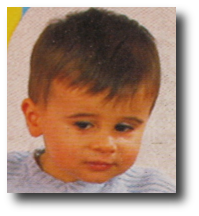 I have bought a lot of baby stuff. And I've noticed that many of the babies on the packaging don't look exactly picture-perfect. Which is understandable, since babies probably aren't very co-operative on photo shoots. But still, you'd expect the photographer to keep trying until they got one where the kid looked as if he was enjoying himself, wouldn't you?
The makers of the Dohome inflatable play house clearly thought not. On the side of the box is this picture in which one child is, at best, listless, and the other is obviously thinking, "What a load of crap this thing is." But even better is the huge picture on the box's front. Check out this baby and tell me if that's a child in the throes of joy and excitement. That kid wants out.
I just wish I could see the pictures they rejected.