I'm not sure if it's like this for other writers, but I have trouble writing something new while I still like my last book. It hangs over me. It makes me feel like I should write that kind of thing again.
Maybe that doesn't sound so bad. But imitating something you think is awesome doesn't work. It's much better to imitate something something you think is flawed. Flawed, you're all, "I loved THIS PART but it would have been SO much better if THIS." Then you make something new and interesting. Aping something you admire, though, you only get a photocopy.
Some people who discover me via Lexicon ask which of my books they should read next, and I'm never sure how to answer, because I think they all suck. I had to reach that belief in order to write the next one. A lot of what I do relies on delusion; I also have to convince myself that the new book is THE GREATEST THING IN THE WORLD, because how else would it make sense to spend a year or two on it. Despise the old, adore the new: I'm sure it's the same in any relationship.
Lexicon has been doing well, which created a problem I hadn't really faced before. Usually, when a book comes out, I'm deep into the early exploratory phase of the next one, and I take some time out to return to that little lost world and talk about it on radio or bookstores or whatever. And it's always slightly fraudulent, because I'm also thinking, this book kind of sucked, you should see what I'm working on now. Again, this is more about delusion than truth. I have to believe that in order to work.
Now, promotion is good fun; people generally say nice things and make you feel like all the work was totally worth it. They even start to convince you, you know what, this book didn't suck that much. It was kind of great. You used to love it, remember? Then before you know it, you're flipping the pages, thinking, This was good. Why did I ever leave?
So the thing with Lexicon is this phase has lasted much longer than usual. It's maybe not all about the book; it's maybe social media, too, bringing everyone so close you even can hear their thoughts. And it's wonderful, of course, everything you dream of when you're lost in a third draft, trying to stitch plots back together. But after a while I started to feel like I was cheating on the new book. It's one thing to stay friends with your ex. It's another to still think about them, talk about them, and open their covers and run your fingers down their pages.
Anyway, this is why I haven't been on Twitter et al lately. I'll be back; it's all good. This book I'm seeing now, wow. We just needed some time.

I was in a bookstore recently and there was a boy, about 10, who wanted a book. His dad was not sure he should have the book. The issue wasn't the book itself; the book was fine. The issue was that the book was #3 in a series, and Dad established that the boy had borrowed the first two from a library.
"Why don't you borrow this one from the library and I'll buy you a different book?" he said.
The boy mumbled something I didn't catch but I'm guessing was some variation of, "I want this book."
I figured that Dad was seeing the book as an object, and feeling it would be wrong to have book #3 sitting on the shelf without #1 and #2. The boy was seeing the book as a story he wanted to get into his head. He had already loaded books #1 and #2 into his head and he didn't much care how #3 got there.
E-books have made a lot of people think about whether they want books or stories. Because you can get stories cheaply and efficiently in e-book form, but you can't put them on your bookshelf. You can't gaze lovingly over your collection, or hold them in your hands and feel the paper speak to you.
Really, though, it's only the latest manifestation of an old dilemma. There have always been people who have treated books with reverence, laminating their covers, turning their pages with care, and never cracking their spines. And there have been people like me.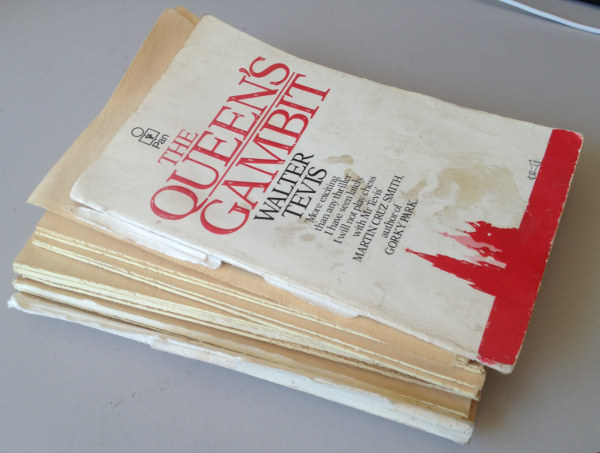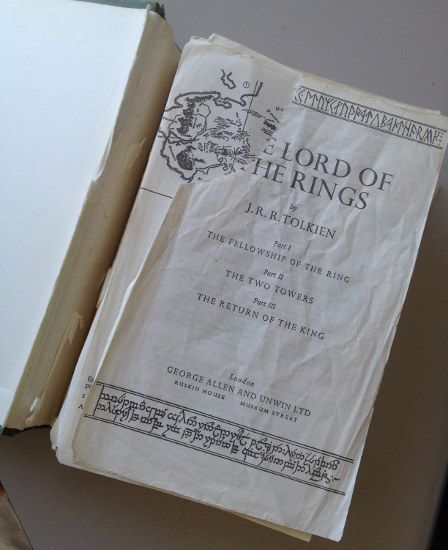 I don't set out to destroy my favorite books. They just wind up that way. And while I have no problem with people who take care of their books, I have to admit I don't quite get it. Sometimes people bring me a book to be signed and they apologize because the book is dog-eared and crumpled. I love seeing that. Those books have been loved. Hard.
P.S. The boy got his book. I saw him walking out with it.