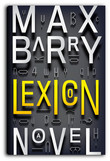 My fifth novel, Lexicon, is out today in the US & Canada, so I'm going to spend some of today visiting New York bookstores, looking at it, and feeling weird. The early press on this book has been kind of shockingly good, like what you dream about as an author but never actually happens, so I'm daring to think that THIS COULD BE IT, the book that allows me to use the word "bestselling" without abusing its definition. Poor word. It has been so stretched.
Bookstore Events: New York, Los Angeles.
But a few days ago I finally watched Syrup and I need to tell you what that was like! I've been building this up for about five years and then I did one tweet, so people have been asking HEY WHAT DID YOU THINK OF THE FILM. But I was traveling and not sleeping and didn't get the opportunity. Now I'm writing this from a New York hotel room at 3:30am, so I'm making my own opportunity, like Tony Robbins.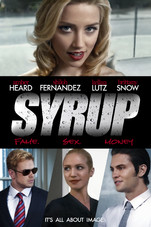 I had been holding out to see Syrup in a theater, since that was what I'd always dreamed about. But then I realized I had a problem, because I could only see it in a theater in the US, and my wife, Jen, wouldn't be there. Jen was a huge part of writing Syrup; she read the first draft one chapter at a time and got all excited about it in a highly motivating and sexy way that made me keep writing. Plus she's an awesome person to see a movie with. But we could only get a DVD in Australia, not see a theater showing.
So I made an executive decision: The night before I hopped a plane (Melbourne to Sydney to Los Angeles to Houston to Columbus all in one 32-hour Friday), Jen and I dragged the sofa up to the TV and closed the curtains, so it would be like a real theater. We were both nervous and held hands and said things like, "Whatever it's like, it doesn't change the book."
And! Then! We! Played! It!
I have trouble summarizing my reaction because I reacted in pieces. I would see a scene and think, "Oh! I wrote this one!" or "Wait that is different!" and I didn't process it at all like a normal person watching a movie. It was all about individual scenes. But my first thoughts were:
"Oh no this is too confusing." The first time I watched it, I was a little shocked at how little setup there was, especially at the start, and thought no-one would understand what was going on. Everything moved so fast. But I've since seen it again (in a theater in Columbus with an actual live audience, and ohhh, how amazing to watch it like a proper movie), and I felt this far less. I think my initial reaction was a novelist kind of thing; films can move faster and the audience still picks up the gist of what's happening.
"This looks really good." The visuals of the movie are really strong. I knew the filmmakers were very big on this, and had an experienced and highly skilled cinematographer in Julio Macat, but boy does that show. Every shot is beautiful and interesting.
"This scene I wrote is awesome!" My favorite parts, for completely selfish reasons, were scenes that played out just like I'd written them in some screenplay draft or other. And then they were on the screen! Some I loved because they were just like I'd imagined (6 making Scat breakfast, Scat shaking a dummy), and seeing them come to life was thrilling; some were awesome because they took my material in unexpected directions, elevating the scene beyond what I'd expected (the monologues, ZephCo's corporate goons—which Josh Pais and Christopher Evan Welch play hilariously well).
I thought this must mean that I am an amazing screenwriter, but later the director showed me some deleted scenes, which included lots of stuff that played out just like I'd written and was really horrible, so I realized the truth was they just kept my good parts. The rest, which turned out to suck when filmed, were quietly executed. So that's lucky for me.
"Amber Heard is amazing." Holy crap. Amber Heard is amazing. I was always worried about how 6 would turn out, but Amber annihilated that character. In a good way. My favorite part of the whole movie is her monologue about marketing love; I think that's perfect. I love Shiloh, too, and many many others, but Amber is amazing. You should make a note so that when everyone else catches on you can be all like, "I actually preferred her earlier work in Syrup."
"How did they do all this?" I've thought this before, when I was on set, but I keep re-thinking it. Novels are easy compared to films. Novels, I just sit there and type and things happen. Films require people to painstakingly create every detail that winds up on screen. It's so practical. They have to wrestle the real world into submission. They have to make decisions based on trade-offs and logistics. And it's so easy to forget because the end result looks effortless.
"OMG ending." I'd heard they changed the ending. I'm not going to say how, because, you know, spoilers. But I had written a particular kind of ending in pretty much every screenplay draft, and then the film went and did something completely different. And it's better! I saw my original ending as a deleted scene and boy did it suck. It sucked a lot. The new one is actually thought-provoking and makes you want to go back and rewrite some screenplays. That may just be me. But I love the ending.
Overall, I think the film is very true to the book, not just in its tone and characters but in how they are both kind of raw and and messy but steam ahead powered by earnest, youthful enthusiasm, never worrying about whether they're being too ridiculous. The film is an indie and if that was a thing for books, the book would be, too. They are a good match. As an author, that's what you want your film adaptation to be. Well, also super successful. But most of all, you want it to be true. This film is true.

"Tour" may be an exaggeration. I'm going to a few places. If you want to see me, come along, and I'll be all like, "Thanks for coming," and you can be like, "That's cool, man, no problem."
Columbus, OH • Chicago, IL • New York, NY • Los Angeles, CA • Melbourne, Australia
Columbus, Ohio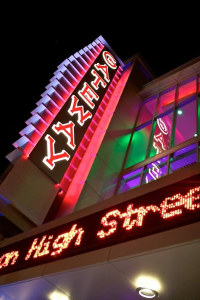 Saturday June 15, 7:00pm ***UPDATED***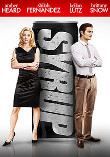 Film screening! Syrup is playing here and I'll be doing a Q&A afterward about what it's like to have a book turn into a movie. I land in Columbus on the night of the 14th direct from Australia so I can't make any guarantees about how I'll smell. Because of the long flight, I mean. Not because of Australia. Australia smells fine.

By the way, Syrup is simultaneously screening not too far away at the Waterfront Film Festival in South Haven, Michigan, with a Q&A with the director Aram Rappaport and editor Robert Hoffman. If you think those guys are better.
Chicago, Illinois
Sunday June 16, 4pm ***UPDATED***

Hang With Max @ Emporium Arcade Bar

I'll be in Chicago two days before my book comes out. I can't do a bookstore event, but I figured I could meet people at a bar or something. I did this in London once and didn't get stabbed at all so I think it's a good idea. There might be some Syrup film people there too. So you could come along and talk about books and films or whatever. Very casual. If you bring a book, I will sign it.

Details to come: I will update this post. And if you know a good venue, please let me know in the comments.
All good book stores, US & Canada
Tuesday June 18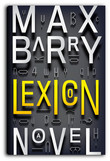 Book comes out. I mention this because you probably want to schedule some time to head to your local bookstore and elbow aside the crowds.
New York, NY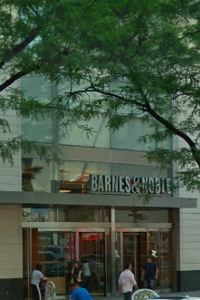 Wednesday June 19, 7:00pm
Barnes & Noble (Upper East Side)
86th & Lexington Ave.
Ph. 212-369-2180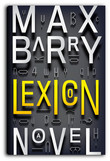 Book launch! I will read from Lexicon and answer questions and stuff. You know. It's a reading. Actually, it's more of a talking. I talk about things. I figure you can read the book yourself. I mean, that's why we had it printed. I will read for a little while, because that's expected, and because sometimes people come to bookstore readings for no particular reason and hear some of the book and think, "That sounds good." Then they buy it and I get to continue being an author.
Los Angeles, CA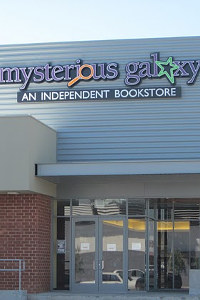 Thursday June 20, 7:00pm-8:00pm sharp ***UPDATED***

Mysterious Galaxy Bookstore (Redondo Beach)
2810 Artesia Blvd., Redondo Beach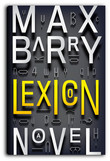 Bookstore event! I read, I answer questions, I sign things. I haven't been to Mysterious Galaxy before, but it was LA Weekly's Best Geek Bookstore of 2012. So that's promising. I only have a few hours in LA, flying in that day and flying out that night, so this will be the kind of visit that's brief and passionate and leaves both of us wanting more, like that time in high school.
All good book stores, UK
Thursday June 20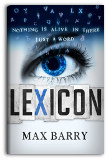 Book comes out in the UK. Sadly, I don't get to be there. My in-laws moved out of Bedford, did I mention? They did. I will probably never go to Bedford again in my life. What am I saying, probably. There is no way I am ever going to Bedford again.
Melbourne, Australia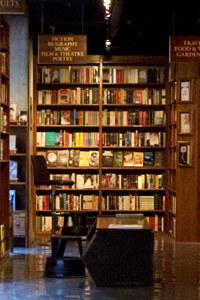 Tuesday June 25, 6:30pm
Embiggen Books
197-203 Little Lonsdale Street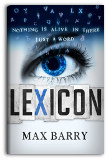 Australian launch! On the day of Lexicon's Australian / New Zealand / South African release I'll be launching it here. Embiggen is awesome. They stock about ten books but they're all really good. They stock more than ten books. That was an exaggeration. But you could seriously just wander into Embiggen with your eyes closed and buy whatever your hands fall on and walk out happy. It's that kind of place.
By the way, the following day (Wednesday June 26 @ 6:30pm) the Embiggen Book Club is doing Machine Man. Details here!
Other Places
You know I'd come if I could. It's not you; it's me. Me, not being near you.