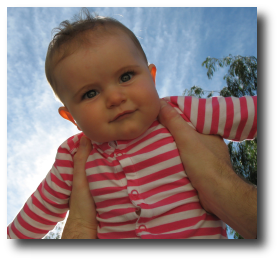 As of last Monday, Jen is back at work two days a week. One of those days, my mother looks after Fin. The other day, I do.
Of course, since I have the kind of job that permits me to loll around the house unshaven and wearing nothing but boxer shorts (although not now, it's winter; I'm not crazy), I already get to spend more time with my daughter than most Dads. (Heh. "Dad." Still cool.) But I have discovered that when it's just me and Fin, it's different; special in a way that's almost magical.
This is how it works: I get up at 6:30am, make myself a coffee, and start work. I have about 90 minutes to pound out some words before Fin wakes. (Which isn't that long. So I am writing Sunday mornings, too, to make up for it.) Then that's it: the rest of the day is just the two of us. So far we have caught the train into the city to look at comic books, walked along the river, visited a mall, and stopped off at an aquarium to inspect some fish. But where we go isn't the point; the amazing part is just having this incredible little girl all to myself. I know I am probably about the ten billionth person in history to feel like this, but it really is beautiful. It feels like an honor.