And after I made all those little icons, too. I've just learned that my gorgeous Company cover has to change.
It all began with Google News. A while ago I discovered that Google lets you customize a News page, so you get headlines on whatever topics interest you. Naturally, I immediately created a "Max Barry" topic and stuck it right at the top. This is how I discovered the evil Todd Bunker article, and about a week ago there was a new one: the shocking revelation that Company has the exact same cover art as another book.
The other book is non-fiction, and British, but still. And what's worse, his is coming out first. I e-mailed Bill, my editor—who, sadly lacking a "Max Barry" Google News topic, had no idea. He was less than thrilled. A few days went by while Doubleday decided what to do (and, presumably, tightened up their licensing agreement with the stock photography people). Then this morning, Bill e-mailed me:
While we haven't been able to ascertain whether the American edition of that other book will use the same donut, we've decided to play it safe and shoot our own donut. Any preferences? Chocolate frosted? Apple cinnamon?

This is the silliest e-mail I've ever sent, but in keeping with the spirit of the book, eh?
It is. It's spooky. The book opens with a donut-related crisis, and now I have my own.

I've been contacting all my friends with babies, pumping them for information on whether those three-wheeler strollers are really all they're cracked up to be, and do you want a bassinet that also converts into a car seat or is it fine to have those things separate, and surely, surely, when the baby book says they go to the toilet 10 times a day, that has to be some kind of misprint, right?
In the midst of all this, I had an idea for a short story. So I wrote it. If you're interested, here it is. It's 3,000 words long.
Thanks so much for all the congratulations and well wishes! You guys rock.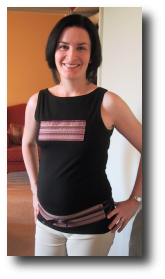 Now, I know other people have had babies. I see them all the time. In fact, I have it on good authority that, at one time, I was a baby myself. So on the one hand, surely there should be nothing newsworthy about the impending arrival of yet another one. But on the other, OH MY GOD MY WIFE IS PREGNANT.
I know, I know. Deep breaths. Work through it. Okay. Here are the facts: The due date is August 22. We know the baby's sex (my theory is the birth will be interesting enough without needing to build up any additional suspense), but are not telling anybody (because we're cruel). It's our first.
Phoooo. Phoooo.

Whoa! That blog about my newest arch-nemesis (why stop at one?), Todd Bunker, got quite a reaction. First a lot of people left comments supporting me, which was really nice and quite touching. I did notice a few said some pretty mean things about Todd… but no, you're right, he deserved it. Then I saw a bunch of people had stampeded onto the site that hosted Todd's article to rake him over the coals. And some copied me in on e-mails to Todd, pointing out (in some detail) glaring deficiencies in his character.
Now, I had been thinking about writing a blog about The Worst Review I Ever Got—one that makes Todd Bunker's seem like drooling praise—but now I'm worried that if I do, people will hunt the guy down, smash his car windows, and kidnap his pets.
So, moving on. For a while there I had a metablog: in late March, a guy called Adam left the comment:
Max Barry has inspired me to start my own blog, and since I don't have a website, I will start writing on the comments of max barry's blogs. It will pobably be really boring and have a lot of grammatical errors because I am not a professional writer.
But it wasn't! I was enthralled with whether Adam would ask Jennifer to the prom, and what would happen to his simmering rivalry with Eric, even if this was all clearly fictional. And damn, he made some good points: why isn't 2% milk called 98% milk? Unfortunately, Adam seemed to lose enthusiasm in April, and then he stopped posting. So my metablog is no more: I'm back to just a regular blog.
Speaking of comments: a couple of people asked about the apparently redundant "A Novel" that appears on the cover of Company. Well, here's the answer, straight from my editor:
That's so bookstore clerks don't throw the book in with WHO MOVED MY CHEESE?
So there you go. Apparently Doubleday is also debating how exactly to "glaze" the donut on the cover! Although:
the scratch n sniff idea was deemed too expensive
Oh well. You can probably get the same effect by purchasing a real donut and smearing it all over the book. If you really want to, I mean.

I'm happily browsing the web, minding my own business, when I stumble across it: an article called "Writers Who Blog," that totally trashes me out. I know! I was shocked too. Still, I was prepared to file it away with all the other things that make no sense, like fat-free chewing gum and Florida, until I discovered something: the article was by the same guy who once wrote one of the worst reviews of Jennifer Government I've ever seen.
I believe there's an old saying: diss me once, shame on you. Diss me twice, I totally go you on my web site. So I'm pulling off my writing gloves (a simple design to the eye, but they have hidden layers) and knuckling up.
First, the review. Now, I understand that people need to review books. It's a valid profession, even noble in its own way, and performs an economically valuable function, like prostitution, and selling heroin to teenagers. Maybe book criticism is even more valuable than those. But there are certain Things Critics Do That Piss Me Off, and Todd Bunker does three out of five. Plus one I keep meaning to add to that list: he gives away some of the ending. In fact, he blabs about something that happens on page 325—which, given it's a 335-page book, should surely be punishable by public flogging. I'm sure most authors would agree with me.
That review was written under a cowardly pseudonym—the only reason I know "Johnny Yuma" is "Todd Bunker" is this new article, in which he fesses up even while dumping more buckets of cold, smelly editorial down my back. It goes like this: Todd, who is a novelist, is thinking about adding a blog to his own site. Curious as to whether this would be a good or bad thing for his career, he checks out Neal Pollack, Wil Wheaton, and me. Neal and Wil come out of it with minor wounds, but me: whoo. First he blasts me for being on the receiving end of some kind of publishing promotion. Then he says the only reason I sell books is because I created NationStates. He disses my "Ride the Walrus" blog, saying it proves I have nothing to write about, then he suggests I lie about how many people visit my site. He calls my readers sycophants (!!) and finishes up by rating my blogs as 2/10, because they're: "Beside the point. [Max] blogs for hits."
Being interested in site traffic is a pretty brave accusation to make in an article that contains three hyperlinks to Todd's own site, an Amazon link to his novel, and an image that when you hover over it pops up: "Todd Bunker Todd Bunker Todd Bunker Todd Bunker Todd Bunker Todd Bunker". And that crack about "Ride the Walrus" is totally undeserved. I tell you, it's the sensation that's sweeping the nation. It's clear to me Todd hasn't tried it at all.
After finding so many faults with other people's blogs, Todd decides against creating one of his own. The "constant interaction" would be "too much of a good thing," he says. Instead, he prefers to retain "a bit of mystique".
Well, I don't know, Todd. If "mystique" means concealing that you're a tosser, it might already be too late. I say, have the courage to put up a blog. Look, it is tough to get noticed as a new novelist; there are way too many of us. I tried the quietly-wait-for-the-world-to-notice-your-great-novel thing, too, and it didn't work out: I had a good book, good publishing support, and great reviews, and it just sunk. If you want to write books and tuck them into your desk drawer, then great. But if you want to make a living out of writing stories, you have to do something more than sit back and wait for success to land in your lap. You have to do everything you can.
So don't be scared, Todd. Show us what you've got.

Today I got some orthotic inserts for my sneakers, because I'd like to be able to keep running without having my feet collapse, or my knees implode, or whatever else is meant to happen to long-time runners. My podiatrist was an energetic young woman named Allison, and pretty soon she had my feet wrapped up in warm, wet bandages—which was really pleasant, although it was hard to relax due to the threat of tickling. Apparently Allison was making a mold, from which a plaster cast of my feet could be formed, and used to shape the orthotics.
"What happens to the casts afterward?" I asked.
"Oh, we keep them," Allison said. "We have to. They're considered medical records."
I found the idea of a big warehouse somewhere full of white plaster feet a bit disconcerting. But Allison was enthusiastic. She was, in fact, remarkably perky for someone who had to smell other people's feet all day. I quizzed her about this: "Don't you get sick of dealing with feet all the time?"
"Oh no," Allison said, as if I had said something deeply shocking. "Two people walk in, and they'll be totally different. With feet, you never know what you're going to get."