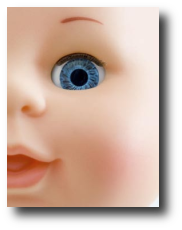 I wrote another short story! I know, it's crazy. It's like I'm just pumping these things out. Anyway, it's in stores now in Australia as part of The Bulletin's Summer Reading Edition, in a super-cool layout complete with creepy doll's head pic. I tell you, there's something about a creepy doll's head pic that just works with my writing, you know? Maybe I can get them to print some in my next novel.
If you're not in Australia, this would be the time when you start to get annoyed. I mean, Australia was already pretty ace, but now it's also got new Max Barry short stories with creepy doll's head pics? That's just too much. But I say would, because The Bulletin said I can post their spread here for your online enjoyment. Which is damn cool of them. So here it is:
This story is quite different to my usual groove, and I'm interested in what you think—whether you prefer this or Springtide, for example.