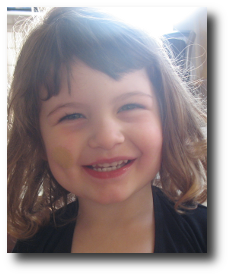 One morning recently I climbed the stairs to my study, coffee in hand, and found a pile of books on the top step. There was a Swedish Jennifer Government, a Polish Company, and four or five others. The front panel of my computer case was missing: I eventually found it inside the roofspace, along with my Richmond Tigers scarf.
I went back downstairs and confronted my daughter. "Have you been moving my things around?"
She grinned, one of those ridiculously beautiful ear-to-ear smiles, and said: "I stranged your room."
Since then, Fin has stranged my study several more times. Once I heard movement up there, called out, "Are you strangeing my study?" and she giggled and admitted yes. She loves to strange.
Today she turns four. Happy birthday, bunny. Thank you for strangeing my life.