I think I must look like I'm smiling when I'm actually in a lot of pain. Like today, in the middle of a 15km (9.4mi) run, I'm barely keeping it together, so my face is a rictus of agony, my lips pulled back from my teeth in a skull-like grimace, and people running in the other direction are all, "Hi!" and big smiles and eyebrow jiggles. This has been going on for a while. At first I just assumed runners were naturally friendly. But there's some surprise in their reactions, so I think I must be grinning at them. They are definitely not picking up my real feeling, i.e. that I am moments away from death. If they were, they'd look a lot more concerned.
My Dad would have turned 70 today. He was some kind of runner. I only began running after he died, so I never appreciated this. Now I realize his 2:45 marathons are practically superhuman. I can maintain that pace for approximately 10 minutes, and that's while grinning.
I'm working on too many books again. Sorry about that. It's a fast way to finish none of them. In the meantime, though, I am drowning in foreign editions. I love getting foreign editions. I could never throw one away. So I have shelves of Portuguese Jennifer Governments and French Syrups. And now a Chinese Machine Man! This novel gets the most interesting covers: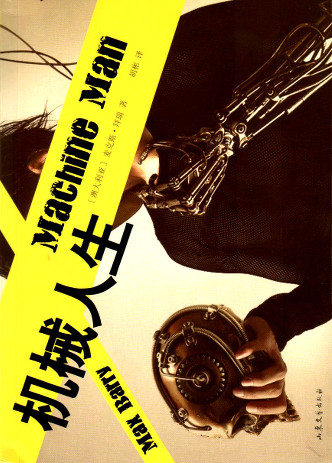 The new Lexicon paperback is still selling well, which is great but doesn't quite free me from the constant terror of thinking my career could end at any minute. I've thought about the reasons behind this feeling, because it's been there essentially the entire time, and have concluded it's because when you're an author, your career really could end at any minute. Each year it doesn't is like a little miracle. I visit my Dad's cemetery on his birthday, just to say hello and talk about the last year, so that's what I'm going to tell him today: when I run, it looks like I'm smiling, and holy hell he was fast, and this last year, it has been another miracle.

Her mother drops her at five and tells me what she likes to eat now. There are times I look at this woman and feel an echo of affection. But not today. She won't eat peas any more, apparently. I am to encourage her to eat peas.
And she's had nightmares, says her mother. Two.
Nightmares?
Bad dreams. It's common at this age.
Dreams about what?
Fish, she says. Don't make a big deal out of it.
I say, How would I make a big deal out of it?
We talk it out, old wrongs flipping and snapping below the surface, and she turns and walks to the car. Then, at last, I have the girl to myself.
---
There is a puzzle in her overnight bag that she wants to show me. We solve and scramble it four times. Then she says she wants to go to the beach.
Maybe next visit, I say. We can't go to the beach now.
Why not?
Because it's late.
Can we go to the beach tomorrow?
Tomorrow I have to drive you back to your mother's.
Oh, she says.
Next time, maybe you can stay longer. Then we'll go to the beach. Today, we can do puzzles. And read books. Maybe do some drawing.
She's disappointed. I don't blame her. This apartment, it is no beach.
---
I tuck her into bed and kiss her forehead and she sits up and says, Do you look after me when I'm asleep?
Yes. I look after you all the time.
She frowns. I'm not getting it. I mean, do you look after me in my dreams?
I even look after you in your dreams.
This satisfies her. She snuggles down, throws an arm over Elephant, her faithful companion.
Good night, Daddy.
Good night, bunny.
---
I wash the dishes, looking out the window at the alley below. The apartment is eight floors up. If you fell, you'd die. Tonight, three men are down there, exchanging a brown-bagged bottle. One shoves the other. The bottle smashes. Profanities are exchanged. I hope she's asleep, can't hear this.
---
I go to bed reluctantly. It's different with her here. Sleeping feels like a waste. But I need to be rested for the morning.
I rarely dream any more, but this night I do: I dream we're on a train. She's sitting opposite, legs tucked beneath her, wearing her favorite top, one with a cat. I look outside and realize we're going to the beach.
When the train stops, we walk to the shore and build sandcastles. I suggest we stomp them, but she doesn't want them ruined. We walk along the water and inspect washed-up jellyfish. Her arms and legs are thin as sticks, and I remember how fragile she is, how she needs protection.
A shark comes. Not a real shark, a toy, inflatable, big and floppy, full of plastic teeth. But still a fish, I think, the stuff of nightmares, and I try to pull her away. The shark snaps and wobbles across the sand and begins to gulp her down, until all I can see of her is her feet.
---
I knock my elbow on my bedside table. I'm cold and wet. She's standing beside the bed and I sit up, disoriented. Hey, bunny. Hey.
You were shouting.
Was I?
Really loud.
I'm sorry. I had a bad dream.
I have bad dreams sometimes.
I know.
I didn't have one tonight, though.
Maybe I took it.
She smiles, a big one that lights up her face. Thank you, Daddy.
Can you sleep in here tonight? I ask her. Do you think?
She climbs in without answering. I feel the bed shift with her tiny weight. She snuggles up beside me, this girl who's keeping me safe.