A clip from Syrup featuring my big-screen debut. Look at me rocking that role. You could totally believe I was a waiter. Some assistance provided by Amber Heard.
Here is the blog I wrote about filming that day, by the way, if you'd like to relive my gut-churning terror.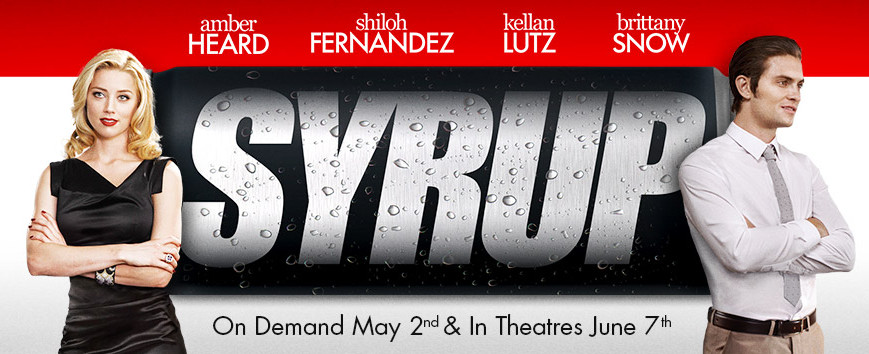 I'm seriously losing the battle to Facebook and Twitter. It's just so easy to post stuff there. I hardly even need to think about it. For a blog I actually have to spend time composing my thoughts. I know that's not really evident, but I do.
As a result, I have accumulated a COMPENDIUM OF NEWS, each item of which failed to inspire a blog all by itself, but which nevertheless requires mention. So buckle in, sparky.
Syrup Movie: Trailer & US Release Date
There was a teaser, now there's a trailer! Those are different, trust me.
The film is out June 6, 2013 in the US. But there's something called a "sneak on demand" on May 2nd, which I think is some kind of Internet thing? I don't know. Will it be viable outside the US? I don't know! But I'm excited!
I think that's my shoulder at 1:10. I'm not sure. I didn't think I was wearing a jacket. But I was definitely standing behind Amber Heard while she made sexy at the camera and no-one else was around. Don't tell me I imagined that. It happened.
Lexicon: Early Reviews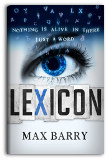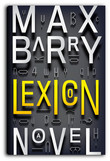 My fifth novel, Lexicon, comes out June 18 in the US & Canada and a few days later in the UK, Australia, South Africa, and New Zealand. I'm not promising this is the novel that will finally allow you to talk about me without the other person saying, "Who?", but the early signs are good. There's a big print run lined up, early reviews are very positive, and awesome people are saying awesome things:
"About as close you can get to the perfect cerebral thriller: searingly smart, ridiculously funny, and fast as hell." —Lev Grossman, New York Times bestselling author of 'The Magicians'

"Lexicon grabbed me with the opening lines, and never let go. An absolutely thrilling story, featuring an array of compelling characters in an eerily credible parallel society, punctuated by bouts of laugh-out-loud humor." —Chris Pavone, New York Times Bestselling author of 'The Expats'

"I don't know how you could craft a better weekend read than this novel of international intrigue and weaponized Chomskian linguistics. It's the perfect mix of philosophical play and shotgun-inflected chase scenes. Like someone let Grant Morrison loose on the Bourne identity franchise." —Austin Grossman, author of 'Soon I Will be Invincible' and 'You'

"Dazzling and spectacularly inventive. A novel that jams itself sideways into your brain and stays there." —Mike Carey, author of 'Hellblazer' and 'Lucifer'
And there's this Amazon.com review I really like and this one and this from bitethebook.com and a soon-to-be-released starred review from Kirkus.
Also film rights to Lexicon have been optioned by Matthew Vaughn, director of a slew of incredible movies including Kick-Ass 1 & 2, X-Men: First Class, Startdust, and Layer Cake. Did I mention this already? I don't think I did. Anyway, I think we've been down this road often enough to realize that "optioned" doesn't mean "there will definitely be a film." But it does mean there might be. And I think Matthew's record of turning optioned properties into films is running at around 90%. That's what he told me, anyway. So that could happen.
Book Tours & Events & Things
Melbourne, Australia: I'll be launching Lexicon at an Embiggen Books event on the day of Aussie publication (Tuesday 25th June). They have a Countdown Timer running so you can always know exactly how many seconds you have to wait.
USA: So this is kind of awkward, because I have a film and a book coming out a few weeks apart and I live a really long way away. I mean, it's the good kind of awkward. It's the kind of problem you like to have. But at this stage it's looking like I'll be in the US for early June, either in LA or New York, but won't come back for a whole tour. I'm thinking I might do some kind of pre-release thing in whichever city I visit, where I read from the new book and then leave you all frustrated and unable to purchase a copy.
UK & elsewhere: Sorry, you need to make me a lot more famous, to justify those air fares.
Jennifer Government
Do you want a Jennifer Government wallpaper? Of course you do! You're not crazy!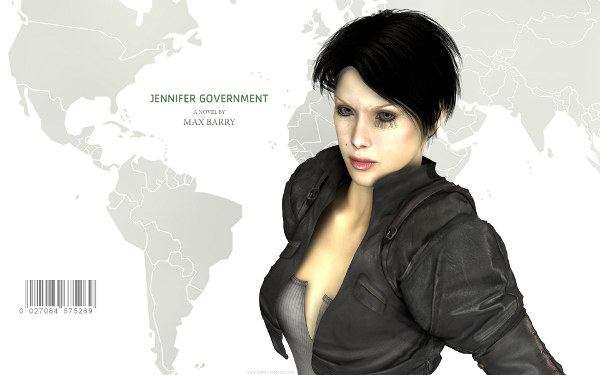 Digital artist Mark Hirst decided to do these for no particular reason and kindly made them available in several sizes.
Also these days Jennifer Government is looking less like a film and more like a TV series. Just FYI.
Machine Man
Look at this Korean Machine Man cover. There's a flamingo on it. Are there flamingos in the novel? No! Not that I recall. But there it is. The back of the cover has a whale and a stag as well.
On the right is the Japanese cover, which I think is super cool. That comes out on May 10. I say this knowing full well that not a single person will think, "Oh, that's good to know. I'm an English-speaking Max Barry fan living in Japan right now." But still.
Also that Machine Man film is still ticking along. You might have thought that since there has been nothing announced for a year or two, that dream was gone. But no! FYI.

Stills! Where do they come from? How do they get out there? I don't know. But they have begun popping up on sites like Amber Heard Web, Shiloh Fernandez Source, Kellan Lutz Online, and Syrup Movie Fans. So: behold!
(Unless you want to completely avoid spoilers. As in, you haven't read the book. And you don't intend to. But you really want to see the movie. And you're browsing my site. You're a strange person.)
Amber Heard as 6, Shiloh Fernandez as Scat: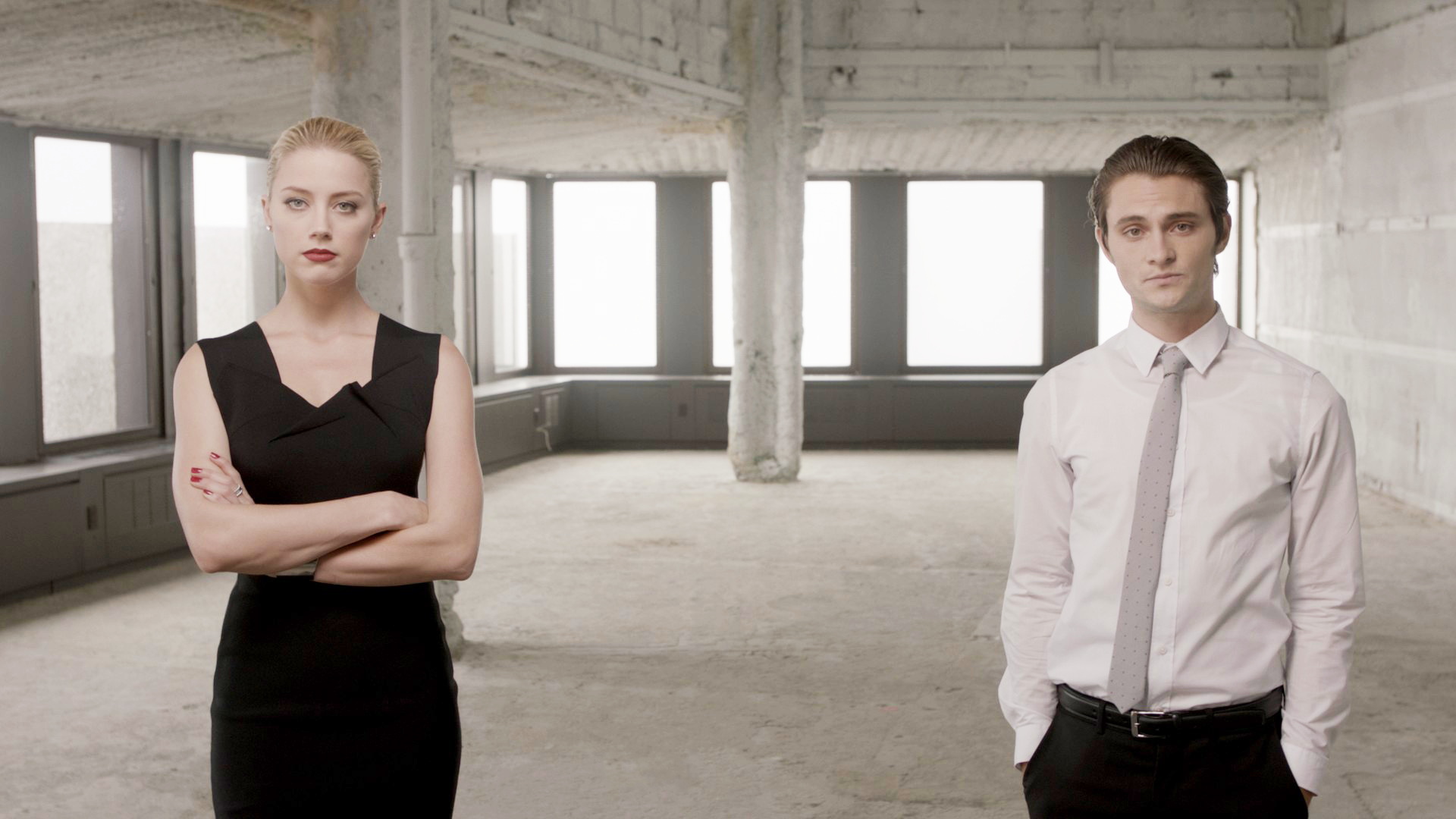 Scat gazes skyward while a machine lurks ominously in the background: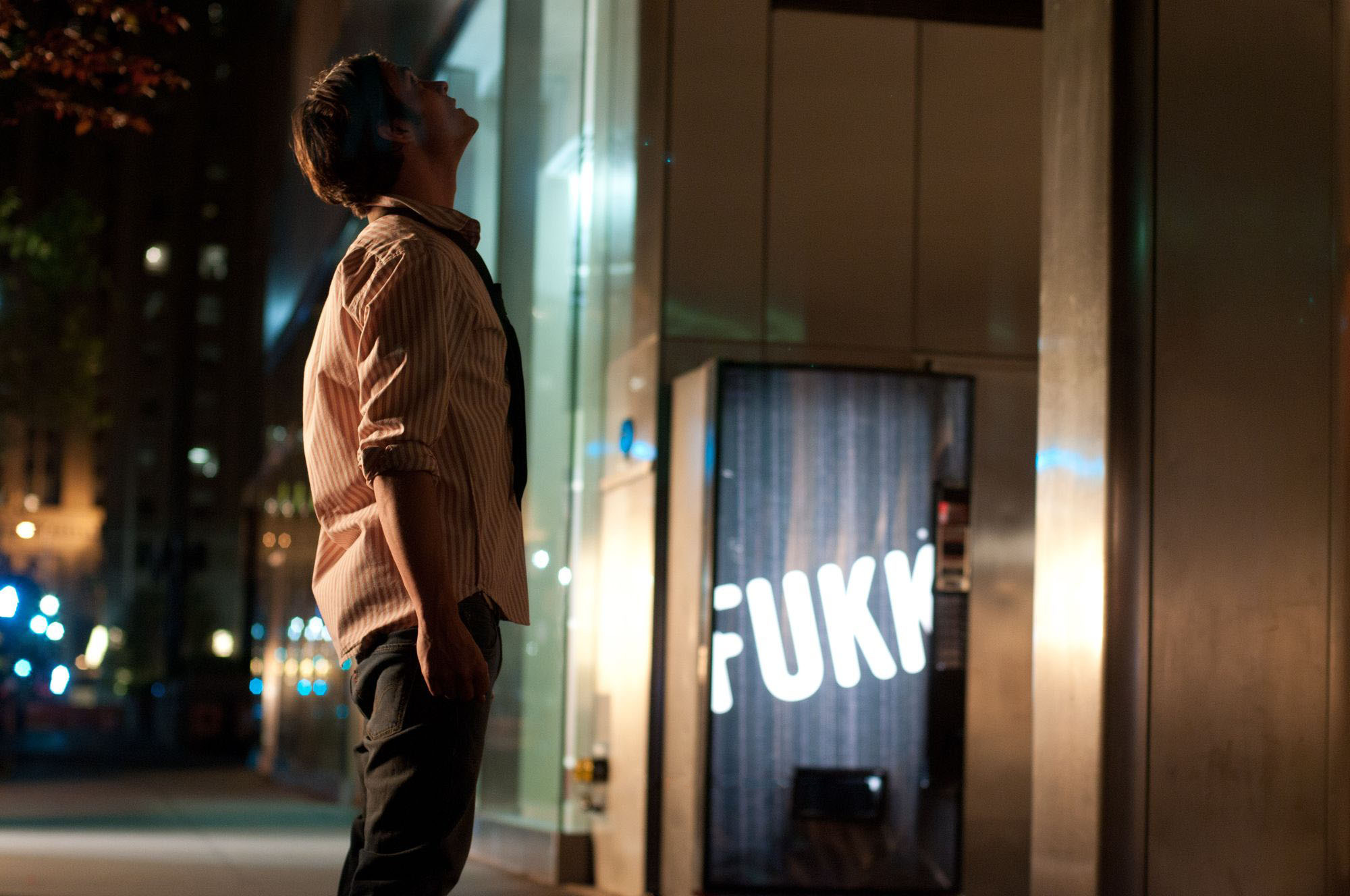 Kellan Lutz as Sneaky Pete: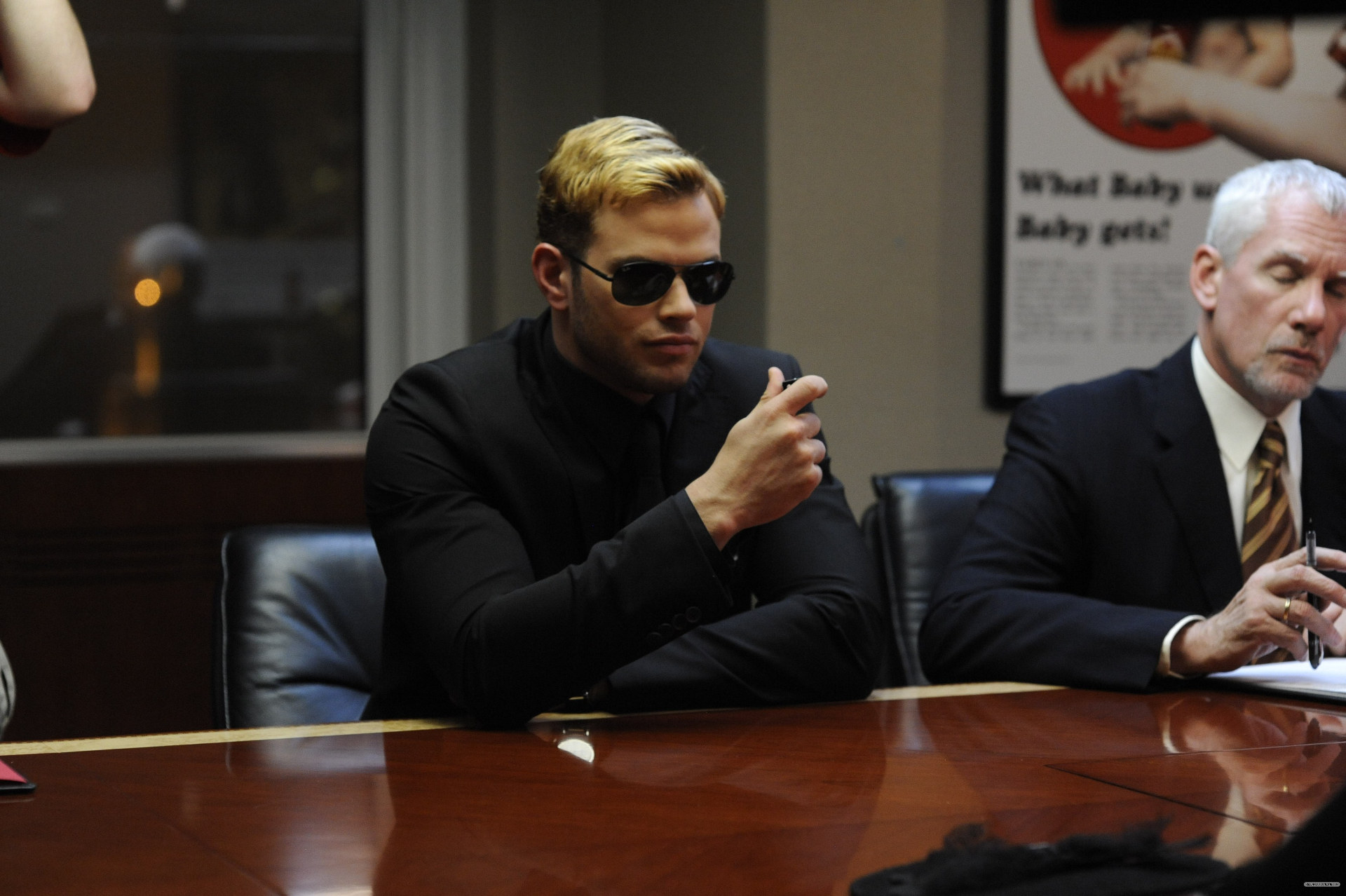 Now for some ANSWERS to COMMON QUESTIONS. I don't believe there's an official release date yet, but it can't be too far away now, can it? Not with these STILLS. So I'm guessing within the next six months.
I haven't seen the film; I am waiting until I can see it in a cinema. Because having a novel turned into a feature film, that's kind of a big deal. I don't want to watch the end result of that on a DVD. I want to sit in a theater and crane my neck and eat popcorn. Right?
The movie doesn't strictly follow the plot of the book. I can say that without seeing it because I wrote many screenplay drafts, and they didn't strictly follow the plot of the book. I don't think movies should be like books only with all the parts you'd normally imagine filled in. I think they should do their own thing. They should be true to the core of the book but express that in whichever ways work best. Also, you know how I rewrite my novels to death? Oh. Well, I do. I change a lot in each new draft. So imagine me adapting my own novel. It's a miracle anything survived.
If you missed it before, here is a teaser. I think it's awesome. I was so happy when I saw this. I watched it about thirty times in a row.

Lately I've been feeling sympathy for actors. I never used to feel that. I used to think actors deserved NOTHING, because they're already beautiful and adored. And people are swoon over how clever and cool they must be in real life, because apparently they improvised their best lines and YOU KNOW WHAT NO THEY DID NOT. They played the damn character that was written for them, that's what they did. The alternative only gets play because people believe in their hearts that movies are real.*
Essentially, I viewed actors as mindless automatons waiting to be filled with words. Attractive automatons, to be sure. They're a fine looking bunch. And they're good at pretending. But that's not a particularly impressive skill. I mean, kids do it. So I've never really rated actors as more deserving of respect than, say, jugglers. Especially jugglers who can balance on things while they juggle. That shit is not easy.
But this was before I actually spent time on a film set. I found that educational in a few ways. For one thing, I had to act. Only a little. I'm kind of abusing the term here. I mostly had to stand in one place and not sneeze. But there was a time when I had to move parts of my body in a coherent way while fifty people and a very expensive camera stared at me, and that turned out to be harder than I expected. There is a pressure element. So I concede that acting, or doing anything, really, is more challenging when a lot of people's time and money is riding on you not screwing it up.
But the real eye-opener was how actors have to do what they're told. Not always. Sometimes actors can say, "I'm not really feeling that line," and the director will say, "Let's try it both ways," and the actor can perform a take differently while knowing in their soul that it will never be seen again. Actors are also free to perform minor on-the-fly sentence surgery, so long as they get the essence right. In some cases, they really can propose something different, and if the director agrees, they get to do it. But mostly they have to say the lines.
So if I write, "6 looks surprised," then Amber Heard has to go ahead and look surprised. I want you to take a moment to think about how much you would enjoy it if you were world famous and had to look surprised just because I wanted you to. Because I would hate it. I would be all, "I tell you what, how about you go fuck yourself?" Now, okay, this probably just means I would make a crappy actor. I already knew that. And I knew actors had to say the lines. That is the most fundamental part of their job. If they weren't prepared to do it, they would find something else to do, like juggle while balancing on things.
But still. I realize more and more how spoiled I am to own the entire process of creating a novel. I don't need anyone's permission to start writing. I don't need to convince people to sign off on doing a part of the story a particular way. I just do it. You might argue that this isn't a good thing. And I might argue, why don't you get off my site, if you hate me so much. But for better or worse, I enjoy the ability to determine how I do my job.
Actors don't have that. They have to give themselves to a role no matter how shitty. They're totally dependent on being offered good scripts, and if they're not, they have to perform bad ones. When they perform bad roles, even when they do a good job, people think they're bad actors, because people think movies are real.* An actor might never once get the chance to perform a role at their best. Which is kind of horrifying.
Of course, they can console themselves with their immense beauty.
(* They are real. All stories are real.)

From here!