SPOILER WARNING: Mild spoilers about Lexicon follow
Hello Max,
I am currently enjoying reading Lexicon, however my pedantic nature forces me to question the storyline at page 190-191 where Emily sleeps with Harry then he is not there next morning.
How does she get home?
How does she get home in such a way that she has difficulty finding her way back?
Regards
Graeme
I'll be honest, Graeme: You are my nightmare. When I'm trying to move the story along while developing character and a satisfying emotional arc, blah blah blah, there is always a little voice in the back of my head that says, "You didn't explain exactly how she got home." Henceforth I will call that voice Graeme.
How did Emily get home? I don't know. I never thought deeply about it. I presume it was somehow. She's not that far from home; she is resourceful; she has feet; I just figure she gets it done.
But I know this isn't a satisfying answer, because all stories are real, and real things have facts. So here is THE ACTUAL ANSWER that I just invented:
Her shoes were useless, of course, two-inch heels, so she carried them. She didn't know the area but followed the dirt road in what she hoped was the right direction. It was an hour before she reached anywhere she recognized, which was another hour away from town. It would be less if a car passed by, but that would also mean she was recognized, and never live it down. So she walked with her head down. She was never going to see him again. She had already decided that.
Now I want you to bear in mind, Graeme, that rural roads are like rivers. There's a main road, from which smaller roads branch out. If you start on a small road with a vague idea of the right direction, you can follow it back upstream until you reach the main road and there you are. But going the other way is more difficult, because you have to remember which branch to take. Right? And it's dark when she returns. I hope we can agree on this.
I try to provide the minimum amount of detail necessary when writing. I think that's my job: to figure out how to have the greatest effect in the fewest words. Because what amazes me over and over about novels is how much of the story is provided by readers. The page holds only the tiniest details, yet we conjure whole worlds. That's the only reason novels work.
I don't think they work when the author tries to explain every little thing. Or when they describe physical objects to death. I can't stand that. It actually feels a little insulting, like they don't trust me enough to share the story. Just tell me there's a broken glass, dammit. I can do the rest.

Heyo! What does it feel like to have a Wikipedia page?
Code name: Esteban
It's pretty great. The best thing is the mailing list they put you on, which lets you contact anyone else who also has a Wikipedia page. You also get a GMail plugin that highlights whether people emailing you have a Wikipedia page or not, so if they don't, you just ignore them. Every six months, you're invited to a secret meeting to vote on the world agenda, like whether we're going to be pushing tax cuts or Trump for President or what.
The only problem is that everyone is terrified of being thrown out, so Wikipedia editors wield enormous power. They're not allowed to have pages themselves, of course (WP:NOTE), but they're effectively puppetmasters, so you hear terrible stories about them keeping B-list celebrities as virtual sex slaves and things like that. If you cross a Wikipedia editor, your bank accounts are frozen, your wife is gone, and your ass is out on the street faster than you can say "NPOV."
You're not allowed to modify your own Wikipedia page (WP:CONFLICT, WP:ORIGINAL), so if you make waves, the editors begin to seed your profile with false information, as a warning. If your profile has your birthday wrong, it means you've begun to make enemies. If it says you were once convicted of shoplifting, your life is in danger. If it discusses gay rumors, you've become a pawn in a bitter intra-wiki factional war. But I've already said too much.

Why is the Turkish edition of Jennifer Government named "Ironi?"
Gee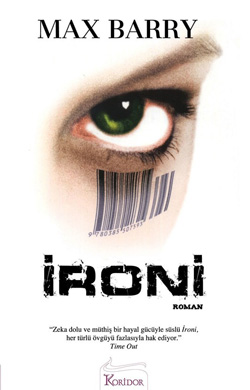 Because it's, like, you know, ironic. Actually no. Not at all. A Turkish speaker tells me it means "irony-y," as in, having the properties of iron. My best guess is that this refers to the character Jennifer Government, who is unbending in her pursuit of justice, and has a high melting temperature.
But I may be completely misinterpreting it. Which would be ironic. Well it wouldn't. But it feels like it should be.

Have you or have you considered writing comics or graphic novels?
Eric Adams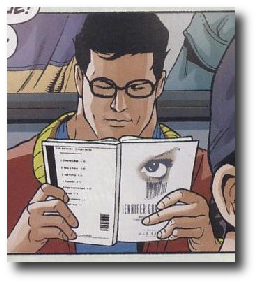 I once pitched a story to DC Comics where LexCorp tries to sponsor Superman. They make a mockup of his supersuit covered in ads, like a racing car driver. Also they infect their own employees via the water coolers, creating an army of flaming-handed psychopaths. Lois Lane is one of those because she's working undercover on a story. Then it turns out it's not Lex Luthor behind all this but LexCorp itself, the corporation, which gained self-awareness and wants to literally consume human resources. So Superman and Lex have to trust each other to stop it. DC didn't pick this up for some reason.
This came about because legendary comic book writer Kurt Busiek decided to have Clark Kent read one of my novels in Action Comics #838. Which is still a major life highlight, by the way. We swapped a few emails and Kurt asked if I was interested in writing for comics and of course I said, WHO WOULDN'T BE INTERESTED IN THAT, KURT, TELL ME, and he hooked me up for the pitch.
So I was sad that didn't work out. As well as loving comics, I like the idea of some really talented artist having to draw what I want. Like, I might say, "I'm kind of thinking a guy who's half-human, half-corporation," and they think, "Arrghh, what does that even mean," and then they figure it out. Because they're talented. So then I'm looking at an awesome drawing of my idea and I'm like, "I came up with that."

Nothing says "An assignment is due tomorrow" more than 35 emails in one weekend from people at the same school.

Max, is it actually true that your novels kind of suck?
Anonymous
Yes! You probably refer to those works-in-no-progress I mentioned, which do indeed kind of suck, but the truth is, so do all my novels, at every stage of the process, including at the end, when they're published. There is no novel I look at and think, "That is just perfect."
Ways in which I think my novels kind of suck include:
The characters do something that seemed plausible at the time but now I'm older/wiser/in a worse mood I don't think so, so everything is stupid.

The first sentence won't work for people who need to be grabbed right away, or else is too gimmicky for people who don't like being grabbed right away.

There's nothing I can explicitly put my finger on but I still feel it could be better somehow, like remember that chapter near the end of The Handmaid's Tale, how come it doesn't have something like that.

I didn't use the serial comma because I liked how it made sentences seem faster but now I love the serial comma so the whole book is dumb. Similarly: I chose "less" instead of "fewer" because I decided real people never said "fewer" but now I'm like OH YES THEY DO SO YOU WERE STUPID.
I'm sure there are more.

Maaaaaaaaaaaaaax! Why is The Squiggle hidden away as some kind of secret page/club instead of being linked from the front? Are you ashamed of your love of AFL? Your love of Richmond (it's ok, there's dozens of you. Dozens!)? Talk about the footy some time, educate the Americans.
Bob
I have actually blogged about Australian Rules Football once before. I shouldn't have, because no-one cares, but I did. If you're not familiar with AFL, here is a summary:
What I love about sport is how pointless it is. There is literally no reason to care who wins anything. But if you do care, it's full of drama and stories. Sport for me is pure entertainment because I can stop thinking about it any time with no consequences.
Anyway, because I find this kind of thing fun, about 15 years ago I wrote a computer program to predict which team would win football games. Then I forgot about it until a few years ago when I rediscovered it on my hard drive and noticed it had performed bizarrely well in the meantime. So I made it into a chart and posted it on a football forum. I called it the "squiggle" because it has squiggly lines.
Now my website traffic looks like this: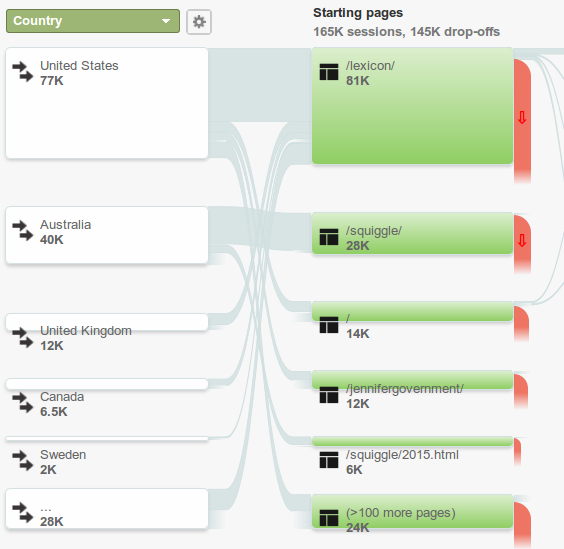 That's most of the world visiting my site because of Lexicon, while Australians don't give a stuff about my novels and head straight for the football chart.
Here is a pretty version:
But the one here on my site auto-updates, so you can check it during games and see how well your team is squiggling. This is addictive because if your team is doing well, what you most want to see is animated graphical evidence.
The Richmond Tigers are headed for finals for the third year in a row, which is awesome, because we were terrible for about twenty-nine years there. Our supporters are like those people who were kidnapped as children and kept in a basement and now we're stumbling around trying to function in adult society. We don't know how to act. It's pretty great.