My publisher just made a big mistake. They e-mailed me a list of the places they're thinking of sending me on my 2007 US book tour, and I said, "How about I put this on my web site and ask what people think?" And my publicist, Martin—I think he must be new; it's the only explanation—said, "Good idea."
What Martin fails to realize is that I have just cleverly arranged for everyone who will be upset that I'm not coming to their town to be angry at him instead of me.
What Martin should have done is what all my previous publicists did: present the schedule only when it's nailed down. That way I'm left helplessly trying to explain to irate, neglected fans why I'm visiting four cities on the west coast but none between L.A. and New York.
Instead, what we have here, ladies and gentlemen, is a tentative schedule. And the publisher wants to know what you think. So go ahead! And remember: there's no reason they couldn't send me to every town in America, if they cared enough!
Okay, that's not true. I was exaggerating for comic effect. The number of cities is probably fixed, due to financial reasons and the fact that I'm not that famous. But if you've got a good reason why they should send me to one place and not another, post in the comments here and Martin will read it.
Here's the list:
Boston
Chicago
Ann Arbor
Dallas
Austin
Denver/Boulder
San Francisco
Either Madison or Los Angeles
It is actually very cool for a publisher to do this. In fact, I've never heard of one asking fans where they'd like an author to visit before.
Update: Whoa! That's a lot of comments. I found out that Martin is on vacation this week, so I guess he'll come back to a nice surprise. Wait, I mean, "violent argument." That's it.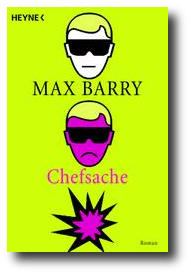 In the comments of my last blog, member Ralf observed that there's a German edition of Company coming out, and they've posted the cover online. I'm glad I have people like Ralf to tell me these things. He's more up-to-date with what's happening in my career than I am. From now on I'll get him to write my blogs.
The German cover is very interesting, because I have absolutely no idea what it means. Now, I'm used to foreign publishers making inexplicable changes that I can only hope make more sense in their native language and culture. Especially if it's the Germans, who are yet to publish a book of mine with anything even vaguely resembling the original title. (Syrup became "Fukk" and Jennifer Government is "Logoland".) Because "chefsache" does not, as you might assume, mean "company." It means "top priority case."
My guess is that it must be common German management-speak, like "action items" or "Let's take this offline" or "We've outsourced your job to India." But the cover is more perplexing. I honestly can't figure it out. And I'm usually good at this kind of thing. Once in high school I sat for an IQ test where they gave me sets of cards with pictures on them, and I was asked to arrange them to make logical stories. I scored lower on that test than anyone. My problem was that I kept seeing logical stories that weren't there: I would arrange my cards in a sequence that made perfect sense to me—that spun tales of pathos and drama, of tragedy and triumph—and look proudly at the teacher only to see her eyes flick down to the answer sheet, and return, sympathetically, to meet mine. After that, they wouldn't let me near sharp objects.
But this one is a mystery to me. Is that guy exploding? Why? And why is he wearing sunglasses? Help me out here: what do you think this cover means?