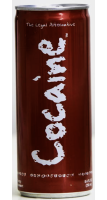 A reader named Richard e-mailed me about the new energy drink "Cocaine." He did this when it was still quite topical, but I've been falling behind on my e-mail again, so I only just found out. In a few weeks time I'm planning to find out how those mid-term elections are shaping up.
Anyway, my thought today isn't about Cocaine specifically, because everything about that product turns out to be exactly as you'd expect:
The inventor came up with the name at 1 a.m.
The name offended a bunch of people, who complained, which generated a lot of publicity, which helped sales
It's anyone's guess what it tastes like, because the articles about it and even the product's own website consider that an irrelevant side detail
The complaints, of course, were that the product glamorizes and legitimizes the illegal drug cocaine. Just as obviously, the manufacturers were shocked that anyone could imply there was some kind of connection between the drug cocaine and their product, Cocaine. They wrote:
Well, we think that kids today are neither ignorant, nor uninformed. As a matter of fact, we think that you are the brightest and most informed generation in the history of the world. How else would you be able to navigate your way to our MySpace?
I was intrigued by how impressed these guys are with their customers. I mean, they really think they're clever. That seemed like an odd conclusion to reach about people who buy sodas just because they have a funny name. And it occurred to me that whenever I hear a company telling their customers how smart they are, it seems they're selling a stupid product.
Take cigarettes. I'm not saying you have to be stupid to smoke. But it certainly helps if you have a poorly developed ability to anticipate logical consequences. Yet it's hard to find an industry more deeply moved by their customers' intellectual powers than tobacco. If you ask Altria,* smokers aren't just customers, they're proud warriors for freedom of choice, fighting against nanny-government interference in our personal lives. In fact, you probably don't realize it, but many people smoke even though they hate it, just to express their refusal to bow to the military-industrial complex.
Similar, sometimes companies implore you to "make up your own mind." Their argument seems to be that if you're smart, you'll ignore the overwhelming body of evidence that says their product is dangerous, and instead reach an independent conclusion based on their promotional web site.
To test the apparent correlation between how smart companies tell you they think you are and how stupid their product is, I plugged the phrase "our customers are intelligent" into Google and noted the top product categories to come up. If companies tended to say that because they really did have smart customers, you might expect to see telescopes and pocket protectors. If, on the other hand, companies tended to tell their customers they were smart as a piece of transparent marketing, you might see:
Shoes
Diamond engagement rings
Domain name hosting
Web site design
…which is what came up. That seems about right to me: two products that are sold for an order of magnitude more than they cost to manufacture, a service that offers the exact same thing as two thousand other companies, and a web site design company that claims, "When Microsoft begged us to help them with their website we were far too busy with other projects and had to turn them down." Although, to be fair, companies offering domain name hosting and web site design come up no matter what you put into Google. They're just part of the landscape, like insects, or Paris Hilton.
(* "Altria" used to be called Phillip Morris. According to its web site, the company changed its name "to better clarify its identity as the owner of food and tobacco companies that manage some of the world's most successful brands." That's good to know. I'd thought they did it just so people wouldn't realize they were the same pack of lying, murderous bastards.)

Well, you must have heard the big news. The story, essentially, is this: three people, one a Coca-Cola employee, tried to sell Pepsi some of Coke's secret recipes. Pepsi called the Feds, and, because spreading a person's secrets is bad manners but spreading a corporation's secrets is illegal, those three people are now probably going to prison.
I have a couple of thoughts about this. First, if I was Pepsi, I'd be a little insulted. I mean, what's the implication: that the only reason my cola tastes like that is because I don't know how to make it more like Coke? The hell with that! If you ask me, Coke should be trying to buy my secret recipes! I'll tell you something for free, mister: we here at Pepsi already know how to make Coke. Coke, that's what we scrape off the bottom of our vats and give away to pig farmers and the homeless.
Second, if I was Coke, I'd be insulted, too. These guys were offering up Coke's newest product, which hasn't even been released yet, and for that they wanted $75,000. I bet that's less than you can win if you look under the right bottle cap of that product, when it comes out. And not only that, but Pepsi wasn't interested. That's got to be deflating. Those Coke developers probably spent months, maybe years, creeping around and looking over their shoulders for Pepsi spies. Then the recipe gets out, Pepsi takes a look, and says, "Nah, we're good, thanks." How is Coke meant to market that now? It could come up with the most brilliant campaign in advertising history, and all Pepsi needs to do is say, "Yeah, we got offered that. Didn't want it."
The only good for either company is that it encourages people to believe that colas are the result of secret, mystical recipes, and not cough syrup plus sugar. (I mean, come on. What's all that advertising for? Because you've never heard of Coke or Pepsi? I get very suspicious about products that need to teach people why they like them. And food is the worst; we already know that what we think of as "taste" only bears a tenuous relationship to the chemical composition of what we put in our mouths. Taste is mostly marketing. All you need to do to prove that is try to feed a three-year-old.)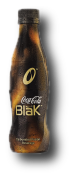 In my novel Syrup, the hero comes up with an idea for a new cola called "Fukk," which comes in a jet black can. He sells the concept to Coca-Cola (well, kind of), and the company releases it.
I'm hoping there will be a Syrup movie in the not-too-distant future, but Coke is making me nervous by releasing products that are increasingly like Fukk. The latest is "Blak." It's a black bottle, not a can, but still: I'm becoming convinced that their plan is to creep toward a Fukk-like product, then sue me for stealing their idea.
Incidentally, I visited the Blak web site and noticed it has a "Spread the Word" section. Coke is clearly excited about this, because if you visit any of the other sections, you see a big link back to "Spread the Word." It turns out that Spreading the Word is sending e-mails to your friends to tell them about Coca-Cola Blak. I would be very interested to know if the number of people who use this facility is greater than zero.
Update: They do sell it in a black can! Aaargh!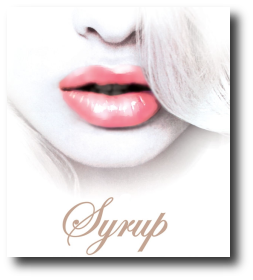 Ah yes, a brave new year, full of possibility! Which is a little bright and confronting at this time of the morning, so let's look back instead.
The Chinese translation of my books is complete, which wouldn't be especially noteworthy except for the fact that trusty translator Wayne Fan e-mailed me their Syrup cover, and—hot damn!—it looks awesome. I wish I could recall all the other editions and get them recovered like this. Well, except for the Chinese characters. Because that would be weird. But otherwise: oh yeah! I was never thrilled with the US cover, so now I can print this design out and paste it over the front of all my copies.
I finished the second draft of my Syrup screenplay just before Christmas, e-mailed it off, and am currently waiting to hear what the producers think. It's been a fascinating process, which I hope to blog about once I know whether to depict Fortress as a group of brilliant, insightful rising stars (if they like my script), or a bunch of bumbling idiots (if they don't).
A few days ago I drew five winners for Company coffee mugs and Mission Statement posters. Thus far four have written back to claim their goodies, so I'm afraid that unless you've heard from me already, you might want to start hoping that member #340 doesn't check his email for a while, and I end up drawing you to get his prize.
My "I was a Teenage Lawn Mower" blog caused quite a stir, but only amongst my immediate family. My stepfather Col Counsell was sufficiently moved to join the site and post a response. It is a collection of gross distortions and outright lies, and I only leave it on my site in order to provide readers with some entertaining and highly imaginative fiction.
I still haven't seen a proper edition of Company, but I'm assured by others that they look swanky. Publication date is just five days away! It's very exciting. Pub date kind of feels like your birthday: the day itself is not that different, but there's a special feeling to it, and people congratulate you a lot, and you finish it hopelessly drunk and trying to hitch-hike home. Unless that's just me.