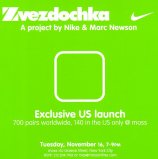 As previously mentioned, occasionally some wacky marketing stunt I dreamed up for one of my novels comes true. Films as advertisements, logo tattoos, naming people after corporations; no matter how outrageous I try to be, real-world marketers are scampering along right behind.
But this is something else. First, a few lines from Chapter 1 of Jennifer Government:
The Johns smiled. "We started selling [Nike] Mercurys six months ago. You know how many pairs we've shifted since then?"

Hack shook his head. They cost thousands of dollars a pair, but that wouldn't stop people from buying them. They were the hottest sneakers in the world. "A million?"

"Two hundred."

"Two hundred million?"

"No. Two hundred pairs."

"John here," the other John said, "pioneered the concept of marketing by refusing to sell any products. It drives the market insane."
This green thing is an invitation to the launch of a new range of Nike shoes that has gotten coolhunters drooling down their buttoned silk shirts. And what's that down the bottom?
700 pairs worldwide, 140 in the US only
The next step, in Jennifer Government, is to throw open the warehouse doors and try to shift as many pairs as possible before the aura of exclusivity wears off. Also to shoot a few customers to make it look as if demand for the shoes is so hot that people are killing each other for them. If that turns out to be Nike's plan in real life, too, I'm putting in a call for commission.