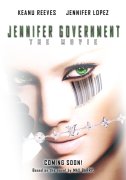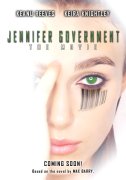 It was a slow day in Germany, so Ralf Heinrich decided to whip up a few mock Jennifer Government posters. (Click for larger versions.) Ralf is quite the wiz with Photoshop, so lest anyone be deceived: no, these aren't official. Officially, teams of screenwriters have been locked in the Warner Bros. dungeon and are being flogged daily until they produce something the studio execs like.
Until that happens, I have to amuse myself with posters like this. That's Jennifer Lopez on the left and Keira Knightley on the right. The J-Lo one is especially appropriate, because originally I thought she'd be a good Jennifer Government, but then I was quietly informed that since Out of Sight, she and George Clooney (whose company is developing the film) don't get along so well. So I'm glad I didn't unknowingly toss that one up to George. That could have been awkward.
I told Ralf this and he said:
I selected J Lo only because of her pretty look and not because of her talent as an actor… so I'm happy to hear she won't starr in the movie.
Aw, now when she reads this she's going to get all upset. But I'm actually more disturbed by the Keanu Reeves references. Whoa.