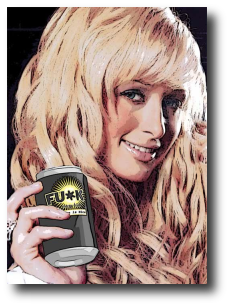 Holy crap! I thought I might get some great can designs, because, well, not to boast, but my readers tend to be smart, talented, and exceptionally good-looking. I'm sure you've noticed this. But still: holy crap! I am getting some great designs here. It is only a matter of time before Coke or Pepsi blatantly rip these off and launch them as new products. And a special mention to Lucia Suarez for coming up with the brilliant "Kinetic Beverage." You know in two years they'll all be called that.
Here are a few of the best entries so far: James F, Nataliya Lalor, Emily Elizabeth Moser, Nathan Carnes, Lucia Suarez, Karan Juneja, Kyle Huberman [1] [2], Chris Hubbard, Andrew Roff, Lori B, Sean Marks, Rod McBride, Shane Smith, Petar.
Lots of people emailed me questions about how to enter, so let me answer some of those here: you should get your entry in this week. A web-friendly JPEG is ideal for submission, but hang on to your high-res original, which we'll need if you win. And yes, the product's name is "Fu*k," asterisk and all.
Next week I'll create a gallery of all entries, for the film producers to peruse. You'll be able to do that, too. If you submitted a design but don't want me to post it or put your name on it, please let me know.
Update: The Fu*k Gallery is now online.
Update 2: Congratulations Mat! Chosen as the best submission from an excellent bunch. When the cans get mocked up, I'll post a pic. Thanks again to everyone who worked on a design.

The Syrup film producers want to mock up some cans of Fukk. I think they are hatching some kind of promotion. They asked if I had a design in mind, and I said not really, but I bet if I mentioned it on my web site, somebody would come up with something good.
So here we are. If you invent a graphic design the producers like, they'll mail you some of the mocked-up cans, and I'll send you an autographed book, and the next time we're all in a limo with Natalie Portman and she says, "I don't wanna go home! Where can we party?", we'll suggest your place. Although that last one has never happened yet, so I wouldn't count on it. Still: cans and book.
Your design should:
be for an energy drink called "Fu*k" (as opposed to a cola called Fukk; that's changed in the script)
be shaped appropriately to be used on a can
probably have a black background
be cool
I'm thinking you may not need to be particularly fancy on this one, because understated is cool. But whatever you think. If you want to enter, email me.

I've been working on a Syrup screenplay for a while now. Longer than I like to think about, really. Anyway, there's a bit I'm using from the book where our hero, Scat, is trying to come up with a brilliant new idea for a Coke TV ad, and instead has a bad one:
I have started to wonder about the beach: about variations on a giant inflatable beach ball. I am thinking about this ball rolling through a major American city, with people running and screaming.
It's the kind of idea that is stupid yet oddly attractive. I have lots of those. So, apparently does Pepsi.
Now come on. That's Scat's stupid idea. The only difference is it's Pepsi instead of Coke, and people having fun instead of being crushed to death. And that change, frankly, was disappointing. I really thought I was about to see some mayhem.
(Thanks to Jake for the heads-up. So to speak.)