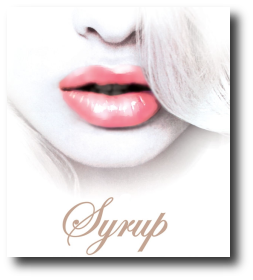 Ah yes, a brave new year, full of possibility! Which is a little bright and confronting at this time of the morning, so let's look back instead.
The Chinese translation of my books is complete, which wouldn't be especially noteworthy except for the fact that trusty translator Wayne Fan e-mailed me their Syrup cover, and—hot damn!—it looks awesome. I wish I could recall all the other editions and get them recovered like this. Well, except for the Chinese characters. Because that would be weird. But otherwise: oh yeah! I was never thrilled with the US cover, so now I can print this design out and paste it over the front of all my copies.
I finished the second draft of my Syrup screenplay just before Christmas, e-mailed it off, and am currently waiting to hear what the producers think. It's been a fascinating process, which I hope to blog about once I know whether to depict Fortress as a group of brilliant, insightful rising stars (if they like my script), or a bunch of bumbling idiots (if they don't).
A few days ago I drew five winners for Company coffee mugs and Mission Statement posters. Thus far four have written back to claim their goodies, so I'm afraid that unless you've heard from me already, you might want to start hoping that member #340 doesn't check his email for a while, and I end up drawing you to get his prize.
My "I was a Teenage Lawn Mower" blog caused quite a stir, but only amongst my immediate family. My stepfather Col Counsell was sufficiently moved to join the site and post a response. It is a collection of gross distortions and outright lies, and I only leave it on my site in order to provide readers with some entertaining and highly imaginative fiction.
I still haven't seen a proper edition of Company, but I'm assured by others that they look swanky. Publication date is just five days away! It's very exciting. Pub date kind of feels like your birthday: the day itself is not that different, but there's a special feeling to it, and people congratulate you a lot, and you finish it hopelessly drunk and trying to hitch-hike home. Unless that's just me.