As you know, I've spent most of the last two months in Bedford, England. No, you do. I mentioned it, like, just a few weeks ago. See, right here. Well I don't care if you do get a lot of e-mail; I thought you'd care enough to remember. Well I guess not. Well maybe you should. Fine. No, I said, fine! Don't take that; that was a present!
Anyway, I am now back home, but before I left, I decided to take a few snaps of Bedford for you. Now, these aren't of Bedford's tourist attractions. That's because Bedford doesn't have any. Instead I just walked around the block. That was all I needed to capture the real essence of Bedford, I think you'll agree.
First, this car was parked outside the house. I took this photo because it's what every car in Bedford looks like. Actually, that's not true; some have more flags.
(Click for larger versions.)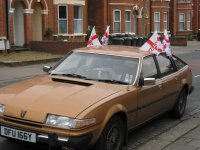 The flags are because of the World Cup, by the way. Just in case you were thinking there must be some really rabid nationalism going on in Bedford. I mean, there could be, but the flags don't prove it.
A few doors down was a youth social center with high walls and barred windows. I'm not totally sure, but I think this is the kind of center where the youths aren't actually permitted to leave. This was on the walls: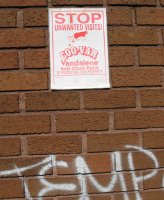 I spent some time trying to work out what "Coo-Var Anti-Climb Paint" actually is. My first guess was that it's really sticky, so when people try to climb the fence they get stuck halfway up, and dangle there until the police come and hose them off. But I touched the wall and it didn't seem sticky. It didn't seem smooth, either, or smelly, or anything else that might discourage climbing. But if I jumped really high I could see a kind of black smear on the top of the wall, so I guessed that was it. And when I touched it, it was sticky. But not that sticky. So I'm still confused about what this product is meant to do.
Around the back of the block, I passed these helpfully labeled bins: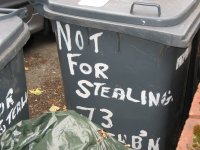 This raised a lot of questions for me. I was tempted to knock on the door and ask the owner a few questions about exactly how he thought this anti-theft protection scheme might work. He seemed to have some insights into the criminal mind that were escaping me. But that probably would have gotten me stabbed, so I didn't.
Note: After my previous Bedford blog, a friend wrote to tell me that Christopher Reeve used to live in Bedford. This left me confused and bewildered. I kept asking myself: Why? God, why? Then I discovered he lived in Bedford, New York, and the world made sense again.