Join Me

Get Max by e-mail
Blog

I apologize for asking Mr. Barry, but what would you consider yourself to be on the political spectrum? I've seen people call you a right-libertarian, a neo-liberal, and other times fiscal conservative. An answer would be much appreciated.
Anonymous
Well those are terrible guesses. I can rule out those three. Here, I took the Political Compass test for you: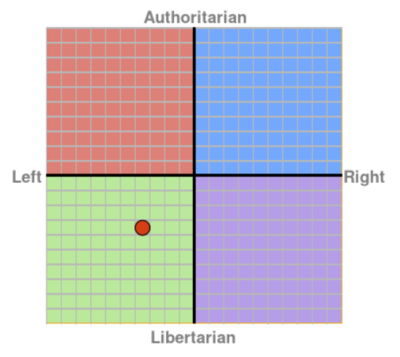 I call myself a militant centrist because I'm a writer, and you can't write unless you constantly put yourself in other people's shoes, even shoes that are kind of gross. For example, if I'm writing a character who's going to assault someone, I need to understand how he sees the world in order for that behavior to make sense. He wouldn't do it for no reason, or if he thought it was fundamentally wrong or would make him a bad person. So he must have a view of the world in which it's the right thing to do.
I might disagree with this character, but it's my job to make his behavior rational. So I climb into that brainspace as far as I can, until it starts to seem totally reasonable to me, too, that he has to assault someone, and, in fact, maybe it's the assaulters who are the real heroes, and the world needs more of them.
(I went back and re-read Machine Man a few years ago, and was really surprised by how strange that character is. When I was writing him, I had wriggled far enough into his head that it seemed quite logical. But with a little distance: No. He is messed up.)
Anyway, out of reflex, I do this in real life, too, so when I encounter an opinion that I find bizarre, I try to contort my mind until I can imagine the context in which it makes perfect sense. And once you can do this for people who want to amputate their own limbs, you can definitely do it for people who oppose gun control.
So although I have a lot of political opinions that are very left-leaning, I usually find something to sympathize with in right-wing arguments, too. I mean, I usually think they're wrong. I really do think most right-wing talking points are, on the evidence, objectively incorrect nowadays. But I can imagine circumstances or contexts in which they would make sense.
This may make me the kind of person who would be appeasing Nazis in the 1930s, by the way, so it's not an objectively good thing. It's just good for a writer.

Hello, I would like to sya that I love your Book Jennifer Government and NationStates. I started playing it maybe a month ago, and I'm doing pretty well. But I have made a mistake with one of my issues and now I have Socialism. So my question is. Do you have any advice for me on how I can fix it? Thanks for your time. Have a great day!
A Guy named Oliver
This is a common problem. Often you're happily going about with a free market and individual rights and then someone's like, "Should we maybe do something about how poor kids are getting a worse education, thus entrenching disadvantage across generations?" and, whoops, socialism.
The important thing is not to panic. Just because you have socialism, that doesn't mean you'll always have socialism. There is a cure. However, socialism is a very serious condition, and I'd advise you to avoid contact with other countries so they don't catch it from you.
This can happen more easily than you think: There are a lot of transmission vectors, such as citizens of your country posting online about how they were taken to the emergency room and yet their financial lives have not been reduced to a smoking ruin, and if citizens of other countries hear this and believe it, that country can get socialism, too.
It's also important to remember that any amount of socialism is dangerous. You can't be half-pregnant with socialism. You either have it or you don't. The only solution is to completely flush it out of your system. There's no point in curing socialism in one area only for it to fester somewhere else. And you may be surprised by the places socialism can develop, if left untreated; for example, do you have a public fire service? A lot of countries do and don't realize it. Unless your fire service is charging market rates and refusing service to non-paying customers, then unfortunately, you still have socialism.
Similarly, you may have a lot of public roads and parks, left over from a time when people didn't fully understand the risks of socialism: You need to hand these over to fee-charging corporations as quickly as possible. Schools, clinics, and public transportation, obviously. Get rid of those. Welfare. Pensions. Also, and I know you don't want to hear this, but the military. If your national defense is funded by forcibly taxing your citizens, you probably have socialism. This can be hard to see directly, so keep an eye out for signs of parasites, such as a wider network of supposedly-private defense contractors guzzling down those tax dollars.
The good news, though, is that with sufficient dedication, you can be cured! In time, you can become completely socialism-free, and enjoy a Utopian libertarian existence with no welfare, taxation, or empathy of any kind. Good luck.

Well let me ask you, Anonymous: y U no post? I mean, I don't know you. But I'm guessing you haven't blogged in a while. Why is that? Is it because you decided the world doesn't actually need your random thoughts inserted into it on a semi-weekly basis? I'm just spit-balling. But that sounds right to me. I mean, there are a lot of human beings out there, Anonymous. A lot. And they can't all be the chosen one sent to save humanity with the power of their opinions.
I know, I know; you used to feel that way. You used to be young, Anonymous. You were filled up with the righteous clarity and passionate delusion of youth that other people need to hear what you have to say. And there's nothing wrong with that. That's a good thing for young people. But you're not 23 any more, are you?
And opinions have become so digestible. You were raised in an age of op-ed pieces, I bet, where people thought about what they wanted to say, spent some time composing it into robust form, and delivered it in meal-sized portions. Today you wouldn't be halfway through that process before the social media maelstrom had eaten, judged, and moved on, all in punctuation-free one-liners. That's okay; that's an evolution of sorts; but it's not exactly your sweet spot, is it? If you're delivering 500-word blogs (blogs!) a day after the fact, you're kind of constantly late to the party, right?
But I do think you should start posting, Anonymous. Like for me, I had a really terrific year creatively in 2018; one of my most enjoyable. I didn't post about it, though, for a few reasons, a big one being that the moment I say out loud something about the writing going well, I can already feel the thousand demons of writers' Hell winging their way toward me. But then a few people started to think I had been killed in that fake balcony fall where Wikipedia says I broke my arm,* or abducted by winged writers' demons, so I felt a little guilty about that.
And when you do post, Anonymous, you often get reminded that there are people out there who do like to know that you are still alive, and not consumed by demons, and some of those people you've been connected to for a really long time. And that's nice. That's really nice. So I do want you to give it a shot, Anonymous. Get back out there. Share your irrelevant thoughts, because that's what people do. The second you have a book deal.