Join Me

Get Max by e-mail
Blog

Why is the Turkish edition of Jennifer Government named "Ironi?"
Gee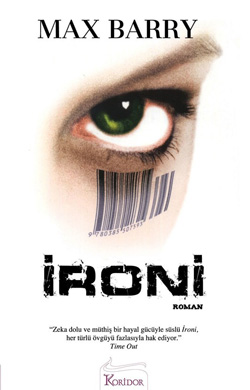 Because it's, like, you know, ironic. Actually no. Not at all. A Turkish speaker tells me it means "iron-y," as in, having the properties of iron. My best guess is that this refers to the character Jennifer Government, who is unbending in her pursuit of justice, and has a high melting temperature.
But I may be completely misinterpreting it. Which would be ironic. Well it wouldn't. But it feels like it should be.

Have you or have you considered writing comics or graphic novels?
Eric Adams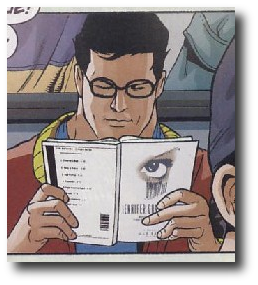 I once pitched a story to DC Comics where LexCorp tries to sponsor Superman. They make a mockup of his supersuit covered in ads, like a racing car driver. Also they infect their own employees via the water coolers, creating an army of flaming-handed psychopaths. Lois Lane is one of those because she's working undercover on a story. Then it turns out it's not Lex Luthor behind all this but LexCorp itself, the corporation, which gained self-awareness and wants to literally consume human resources. So Superman and Lex have to trust each other to stop it. DC didn't pick this up for some reason.
This came about because legendary comic book writer Kurt Busiek decided to have Clark Kent read one of my novels in Action Comics #838. Which is still a major life highlight, by the way. We swapped a few emails and Kurt asked if I was interested in writing for comics and of course I said, WHO WOULDN'T BE INTERESTED IN THAT, KURT, TELL ME, and he hooked me up for the pitch.
So I was sad that didn't work out. As well as loving comics, I like the idea of some really talented artist having to draw what I want. Like, I might say, "I'm kind of thinking a guy who's half-human, half-corporation," and they think, "Arrghh, what does that even mean," and then they figure it out. Because they're talented. So then I'm looking at an awesome drawing of my idea and I'm like, "I came up with that."

Max, is it actually true that your novels kind of suck?
Anonymous
Yes! You probably refer to those works-in-no-progress I mentioned, which do indeed kind of suck, but the truth is, so do all my novels, at every stage of the process, including at the end, when they're published. There is no novel I look at and think, "That is just perfect."
Ways in which I think my novels kind of suck include:
The characters do something that seemed plausible at the time but now I'm older/wiser/in a worse mood I don't think so, so everything is stupid.

The first sentence won't work for people who need to be grabbed right away, or else is too gimmicky for people who don't like being grabbed right away.

There's nothing I can explicitly put my finger on but I still feel it could be better somehow, like remember that chapter near the end of The Handmaid's Tale, how come it doesn't have something like that.

I didn't use the serial comma because I liked how it made sentences seem faster but now I love the serial comma so the whole book is dumb. Similarly: I chose "less" instead of "fewer" because I decided real people never said "fewer" but now I'm like OH YES THEY DO SO YOU WERE STUPID.
I'm sure there are more.