On September 11, 2001, the city of Melbourne, Australia evacuated its World Trade Center. This is a short building on the banks of the Yarra River, a short distance from Melbourne's central business district, a little over ten thousand miles from New York. It used to have a casino; before that, it hosted an exhibition of waxworks from Madam Tussaud's. If you ran a line from Ground Zero in Lower Manhattan through the center of the Earth, you would exit the planet not so very far from here—closer, certainly, to Australia than to any other country in the world.
Australia is a long way from everywhere. A flight to Sydney takes 15 hours from Los Angeles, 21 hours from London, 14 hours from Johannesburg, and 10 hours from Tokyo. There is no stopping off in Australia on the way to somewhere else, unless you're headed to Antarctica. You can't take in Australia as a side-trip while visiting somewhere else nearby. It is an island continent that you reach only by making it your ultimate destination and exerting a concerted effort.
This isolation is the core of Australia's identity: it is the reason the country has an aboriginal population that existed undisturbed for 40,000 years, and some of the world's strangest and most inimitable flora and fauna, and why, indeed, it was chosen to be a penal colony by the British in 1788. It is a place you go to be removed from the world.
But on 9/11, terrorists were attacking World Trade Centers, so Melbourne evacuated hers. This didn't seem silly at the time; that day made all horrors plausible. No precaution was too extreme when yesterday it had been inconceivable that terrorists might take thousands of lives in New York and across the US, and today it had happened. So for a while, Australia forgot it wasn't part of the world. "We are all Americans," Australians said on 9/11—September 12, actually, on antipodean time, since Australia is so far away it is usually a different day altogether. And we meant it: we were deeply shocked to see acts of foreign terrorism, always previously associated with unfamiliar people in unfamiliar places, happening somewhere Over There, become suddenly intimate and recognizable.
Over time, though, the War on Terror became the War on Iraq, and the American flags on TV reminded us that although 9/11 affected the Western world, at its most pointed and personal, it was an American story. Australia, as usual, was watching from afar. We sent troops to Afghanistan and to Iraq, maintaining solidarity with our American cousins, but ultimately, we came to realize that the US was Over There, too.
In 2002, 88 Australians were killed by a radical Islamist group bombing on the Indonesian island of Bali, a popular holiday destination. Bali is a mere six hours from Sydney, and only two and a half from Darwin, the closest Australian city. It was a traumatic event, but again, it wasn't quite Here. More recently, there have been police terror sweeps in Australian cities, with arrests made and, apparently, plots foiled. The federal government warned us that groups had developed with the motivation and ability to carry out local attacks.
You live a charmed life in Australia. The streets are safe; the weather is terrific; the people are friendly. The ocean keeps everything out. Or, at least, slows it down. We complain about that, when a car costs thirty thousand dollars, or a TV show won't hit our screens right away, but it's the ocean that has allowed Australia to stay Australia in the face of relentless globalization. It's given us more than a decade in which to rethink our ideas on society and our way of life, and the trade-offs between freedom and security we're willing to make, without having to do so in the immediate aftermath of a national tragedy.
On Monday, a man with a gun took hostages in the middle of Sydney in what he claimed to be an attack on Australia by the Islamic State. A self-described cleric with a history of antagonism toward Australian military involvement in Afghanistan, he was, by all reports, a dangerous loner rather than a member of an organized terrorist group. By the time the siege was over, two hostages were dead.
If this man had claimed to be acting for some other cause—disgruntlement at the tax code, or the high price of cars—we wouldn't call it terrorism. We would call it what it is: a lunatic with a gun. But that would overlook the deeper trend, which is that Australia's oceans are shrinking. Today technology allows a man to be more connected to militant extremists across the globe—in spirit, if nothing else—than he was to his neighbors in Bexley North. He can latch on to toxic ideas from the other side of the globe and bring them into Sydney, feeling he is part of a global cause.
Whether we call it a siege or terrorism, this is something that used to happen Over There. And now it's here. It wasn't unexpected, and arrived more benignly than it could have, and today the country will get on with business as usual. But life is becoming a little less charmed. We are no longer so far away.

I think I must look like I'm smiling when I'm actually in a lot of pain. Like today, in the middle of a 15km (9.4mi) run, I'm barely keeping it together, so my face is a rictus of agony, my lips pulled back from my teeth in a skull-like grimace, and people running in the other direction are all, "Hi!" and big smiles and eyebrow jiggles. This has been going on for a while. At first I just assumed runners were naturally friendly. But there's some surprise in their reactions, so I think I must be grinning at them. They are definitely not picking up my real feeling, i.e. that I am moments away from death. If they were, they'd look a lot more concerned.
My Dad would have turned 70 today. He was some kind of runner. I only began running after he died, so I never appreciated this. Now I realize his 2:45 marathons are practically superhuman. I can maintain that pace for approximately 10 minutes, and that's while grinning.
I'm working on too many books again. Sorry about that. It's a fast way to finish none of them. In the meantime, though, I am drowning in foreign editions. I love getting foreign editions. I could never throw one away. So I have shelves of Portuguese Jennifer Governments and French Syrups. And now a Chinese Machine Man! This novel gets the most interesting covers: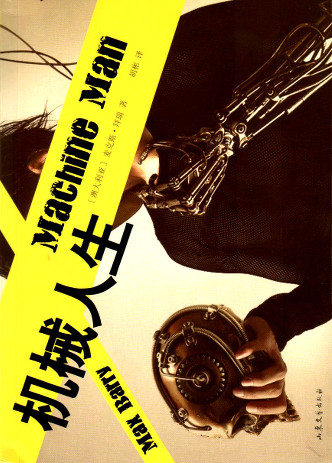 The new Lexicon paperback is still selling well, which is great but doesn't quite free me from the constant terror of thinking my career could end at any minute. I've thought about the reasons behind this feeling, because it's been there essentially the entire time, and have concluded it's because when you're an author, your career really could end at any minute. Each year it doesn't is like a little miracle. I visit my Dad's cemetery on his birthday, just to say hello and talk about the last year, so that's what I'm going to tell him today: when I run, it looks like I'm smiling, and holy hell he was fast, and this last year, it has been another miracle.

Her mother drops her at five and tells me what she likes to eat now. There are times I look at this woman and feel an echo of affection. But not today. She won't eat peas any more, apparently. I am to encourage her to eat peas.
And she's had nightmares, says her mother. Two.
Nightmares?
Bad dreams. It's common at this age.
Dreams about what?
Fish, she says. Don't make a big deal out of it.
I say, How would I make a big deal out of it?
We talk it out, old wrongs flipping and snapping below the surface, and she turns and walks to the car. Then, at last, I have the girl to myself.
---
There is a puzzle in her overnight bag that she wants to show me. We solve and scramble it four times. Then she says she wants to go to the beach.
Maybe next visit, I say. We can't go to the beach now.
Why not?
Because it's late.
Can we go to the beach tomorrow?
Tomorrow I have to drive you back to your mother's.
Oh, she says.
Next time, maybe you can stay longer. Then we'll go to the beach. Today, we can do puzzles. And read books. Maybe do some drawing.
She's disappointed. I don't blame her. This apartment, it is no beach.
---
I tuck her into bed and kiss her forehead and she sits up and says, Do you look after me when I'm asleep?
Yes. I look after you all the time.
She frowns. I'm not getting it. I mean, do you look after me in my dreams?
I even look after you in your dreams.
This satisfies her. She snuggles down, throws an arm over Elephant, her faithful companion.
Good night, Daddy.
Good night, bunny.
---
I wash the dishes, looking out the window at the alley below. The apartment is eight floors up. If you fell, you'd die. Tonight, three men are down there, exchanging a brown-bagged bottle. One shoves the other. The bottle smashes. Profanities are exchanged. I hope she's asleep, can't hear this.
---
I go to bed reluctantly. It's different with her here. Sleeping feels like a waste. But I need to be rested for the morning.
I rarely dream any more, but this night I do: I dream we're on a train. She's sitting opposite, legs tucked beneath her, wearing her favorite top, one with a cat. I look outside and realize we're going to the beach.
When the train stops, we walk to the shore and build sandcastles. I suggest we stomp them, but she doesn't want them ruined. We walk along the water and inspect washed-up jellyfish. Her arms and legs are thin as sticks, and I remember how fragile she is, how she needs protection.
A shark comes. Not a real shark, a toy, inflatable, big and floppy, full of plastic teeth. But still a fish, I think, the stuff of nightmares, and I try to pull her away. The shark snaps and wobbles across the sand and begins to gulp her down, until all I can see of her is her feet.
---
I knock my elbow on my bedside table. I'm cold and wet. She's standing beside the bed and I sit up, disoriented. Hey, bunny. Hey.
You were shouting.
Was I?
Really loud.
I'm sorry. I had a bad dream.
I have bad dreams sometimes.
I know.
I didn't have one tonight, though.
Maybe I took it.
She smiles, a big one that lights up her face. Thank you, Daddy.
Can you sleep in here tonight? I ask her. Do you think?
She climbs in without answering. I feel the bed shift with her tiny weight. She snuggles up beside me, this girl who's keeping me safe.

I'm trying this thing where I wake up very early, like 5am, or, not quite on purpose, 3:43am this morning, make a coffee, and head straight to work. It's a good feeling, being up and productive that early, once I've stopped feeling like I need to throw up. It's a quiet, distraction-free time; just me, my words, and my pounding Scott & Brendo tunes. The only downside is that after lunch my brain doesn't work at all. But I use that time for non-creative work like email and writing blogs, so that doesn't matter so much.
This year is all downhill for me. It has to be, because in 2013 I had a new book come out that was almost universally unhated, plus a real film based on my first novel. I practically feel like retiring after that. Like maybe I could go make snowboards. I don't know anything about snowboards. I don't know much about snow, either. I'm in Australia. But I'm sure there's a craft there, hiking out to find just the right tree, cutting it down, then, like, sandpapering it into the right shape or something. Actually, now that's sounding like a lot of work. Forget that. I don't even like snowboards. My point is that 2013 was a big year.
Lexicon gets a paperback release in… holy hell. Four days!? How did that happen? Last I checked it was coming out at the end of May. Okay. So I just discovered the UK publisher moved up their Lexicon paperback release date, so it was ahead of the US, then the US publisher was like, THE HELL, and moved up theirs by two months. They did actually tell me they were doing that. I just skimmed over the "by two months" part.
So I should have been a lot more active on social media lately. Anyway: Lexicon comes out in beautiful paperback on April 1 in the US & Canada, and April 10 in the UK, Australia, New Zealand, and South Africa.
And it has my favorite cover ever!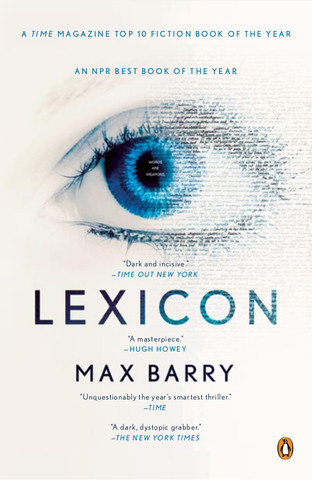 See, the eye is made from little words. I like it because it looks like a sci-fi movie poster, plus people are saying I'm awesome on it. Those are two big ticks. Also it's reminiscent of Jennifer Government, which was super-stylish.
Lexicon made some "Best" lists over the last few months, which I'm required to mention. I don't like doing this. But you're a busy person; you might not have noticed. And I need to make a living. So here are some of them:
Time Magazine Top 10 Fiction Books 2013
Kirkus Best Fiction of 2013
Chicago Tribune Page-Turner of the Year
NPR Best Books of 2013
Goodreads Best Books of 2013
2014 Alex Award Winner
iBookstore Best of 2013
Amazon.co.uk Best Books of the Year
Aurealis Award Finalist
The Aurealis one makes me especially happy because that's the first magazine to which I ever seriously submitted fiction. I only sent them that one piece and was outraged by their rejection, despite it being totally deserved, because I was 24 and the story wasn't that good. But I vowed revenge, i.e. becoming skilled enough at writing to get a story accepted by Aurealis. Then I got more into novels and kind of forgot about it. But look! I still have my Aurealis rejection letter from 1997: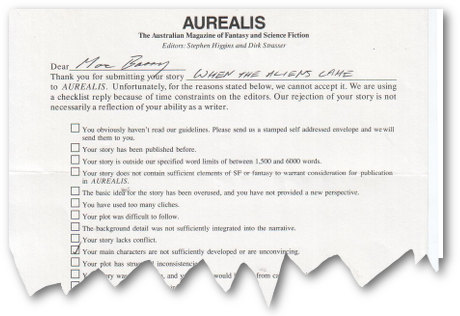 And I still have the story! As Aurealis noted, it is very short, so you can read it in about one minute. It was never published anywhere, for reasons that may become obvious.
Read: "When the Aliens Came" by Max Barry (PDF)
The brevity might be a selling-point in these days of Twitter novels and flash fiction. But 1997 was a different time, a slower time, when people expected their stories to last longer than a cup of coffee.
Incidentally, I've been thinking about publishing more short fiction on this blog. I'm not saying it will happen. Because it's easier to think about than do. But it's an idea.