I'm not sure if it's like this for other writers, but I have trouble writing something new while I still like my last book. It hangs over me. It makes me feel like I should write that kind of thing again.
Maybe that doesn't sound so bad. But imitating something you think is awesome doesn't work. It's much better to imitate something something you think is flawed. Flawed, you're all, "I loved THIS PART but it would have been SO much better if THIS." Then you make something new and interesting. Aping something you admire, though, you only get a photocopy.
Some people who discover me via Lexicon ask which of my books they should read next, and I'm never sure how to answer, because I think they all suck. I had to reach that belief in order to write the next one. A lot of what I do relies on delusion; I also have to convince myself that the new book is THE GREATEST THING IN THE WORLD, because how else would it make sense to spend a year or two on it. Despise the old, adore the new: I'm sure it's the same in any relationship.
Lexicon has been doing well, which created a problem I hadn't really faced before. Usually, when a book comes out, I'm deep into the early exploratory phase of the next one, and I take some time out to return to that little lost world and talk about it on radio or bookstores or whatever. And it's always slightly fraudulent, because I'm also thinking, this book kind of sucked, you should see what I'm working on now. Again, this is more about delusion than truth. I have to believe that in order to work.
Now, promotion is good fun; people generally say nice things and make you feel like all the work was totally worth it. They even start to convince you, you know what, this book didn't suck that much. It was kind of great. You used to love it, remember? Then before you know it, you're flipping the pages, thinking, This was good. Why did I ever leave?
So the thing with Lexicon is this phase has lasted much longer than usual. It's maybe not all about the book; it's maybe social media, too, bringing everyone so close you even can hear their thoughts. And it's wonderful, of course, everything you dream of when you're lost in a third draft, trying to stitch plots back together. But after a while I started to feel like I was cheating on the new book. It's one thing to stay friends with your ex. It's another to still think about them, talk about them, and open their covers and run your fingers down their pages.
Anyway, this is why I haven't been on Twitter et al lately. I'll be back; it's all good. This book I'm seeing now, wow. We just needed some time.

That row of numbers on a book's copyright page is called the printer's key and tells you whether you're holding a first edition or fourth or what. First editions look like this:
1 2 3 4 5 6 7 8 9 10
… and each time the publisher goes back to the presses for a reprinting, they delete a number. So this:
5 6 7 8 9 10
… is a fifth printing of that edition.
This isn't really a secret. I just thought that was a funny blog title. But reprintings are great, because they mean the book sold more than the publisher's worst fears. It's a constant source of joy to me that while the Syrup hardcover was such a commercial disaster that you can more easily find remaindered copies than real ones, the paperback keeps getting reprinted, fourteen years on. Last month, I flipped to a Syrup copyright page and saw this:

I don't care if they are running off eight books at a time; that's awesome. It's so sad when a book goes out of print. It's like a little death. I hope e-books will save authors from those.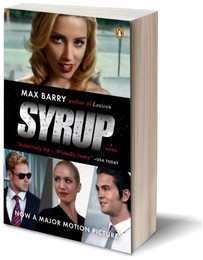 Also, Syrup just got itself a movie tie-in edition! As a reader, I've always disdained movie tie-in editions. I'm all, "If I wanted to see the movie, I would, like, see it." But as an author, it makes me stupidly happy. I mean, movie tie-in edition. Who wouldn't want one of those. And I've never really loved the existing Syrup covers. I don't hate them. But I don't love them. The US paperback in particular looks to me like an ironic comment on marketing, only without the ironic part.
Plus, these will make excellent gifts for people who have no intention of reading the book but will be impressed by the fact that it's a movie.

You know what I discovered on book tour: AMERICA HAS GONE TO THE FUTURE. I was there two years ago but in the meantime America advanced about a decade. Now you use your phone to carry boarding passes and movie tickets. When you need a ride somewhere, you summon cars with an app. I tried to buy a sandwich in New York and the store didn't take cash. DIDN'T TAKE CASH. I met two people who don't carry wallets any more, just credit cards. In two more years, I guess, they will just carry phones.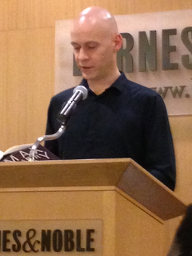 Now I'm home in Melbourne, Australia, I'm all, "Ugghhh, stores that only take cash, how 2011." I just bought some sushi and it seemed really stupid, handing over a twenty and trusting the cashier to remember and figure out the right change. That process is fraught with potential errors. If we didn't already do it like that, and somebody invented it, it would seem like a terrible idea.
Besides marveling at technological process, I was in the States to read and sign books. During my New York event, a person asked, "What's the worst thing about being an author?" At first, I was overwhelmed by things to bitch about, like, just that morning, I had really felt like some wheat-based cereal, but my fancy hotel restaurant only did Granola. This is the kind of rough justice I'm expected to put up with on book tour.
But beyond that, there was the whole thing about having a career that occasionally seems like it's about to dissolve into nothingness, which is sporadically terrifying, and sometimes I write things nobody likes, which is disappointing, and working on the same idea for years at a time can be challenging, too.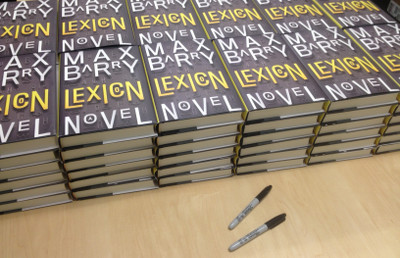 I didn't catalog these pains, though, because they were hard to justify in the face of a room full of people who had all come out to see me and buy my books so I could keep writing stories for a living. That is just plain awesome. I think I'm getting more appreciative in my old age, by which I mean less deluded about how rare and special this is, getting to write books and have them published and people liking them. Thank you so much to everyone who reads my stuff, and comes to see me, and tells other people my books exist.
Speaking of which! I don't know how you politely slip into conversation that you've received a crapload of positive reviews, but CHECK THIS OUT: a crapload of positive Lexicon reviews! You have to admit, that's a lot. Even I feel like buying a copy after reading that.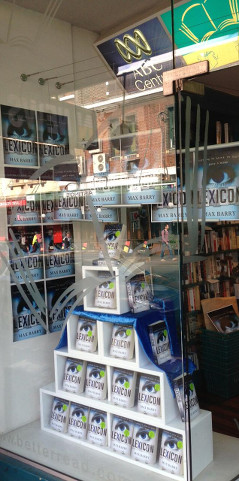 If you have bought a copy, and now you have questions, you might want to join the @Penguinusa Twitter Book Club and tweet questions at me. The first session is Tuesday 7pm EST (US).
Another thing I'm doing is fielding outrage from librarians. At the end of Lexicon are Acknowledgments, which contain this:
And, hey. You. Thanks for being the kind of person who likes to pick up a book. That's a genuinely great thing. I met a librarian recently who said she doesn't read because books are her job, and when she goes home, she just wants to switch off. I think we can agree that that's as creepy as hell. Thank you for seeking out stories, the kind that take place in your brain.
This sparked some amount of LIBRARIAN RAGE, expressed via email and Twitter. In retrospect, I should have seen coming, because I am married to a librarian and know how they work. See, librarians come in two flavors: Kick-Ass Librarians and Mundane Librarians. Kick-Ass Librarians love books with a deep and fiery passion, and have firm opinions about censorship, and will cross burning coals and defeat ravenous lions in order to deliver an age-appropriate book into the hands of a willing reader. Mundane Librarians—of which there are very few, compared to Kick-Ass Librarians—just do the job. To them, books are rectangular things that need to be scanned and filed. When I say it like that, it doesn't sound so bad. But to Kick-Ass Librarians, a Mundane Librarian is a new mother in a Birthing Ward who says, "Yeah, I just had a baby. He's around here somewhere." It tears at the insides of Kick-Ass Librarians that these people are entrusted with the care of books (and readers!). And it burns them up to think that people believe all librarians are like that: Mundane.
So I am sorry for not being clearer about that, Kick-Ass Librarians.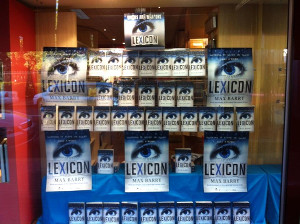 Finally! Are you Australian? Do you want to win a copy of Lexicon? Do you sometimes lie awake, regretting things you did in high school? If you answered YES to at least two of these questions, and they were the first two, post a comment here on maxbarry.com plaintively begging and/or arguing the merits of your case! The Australian publisher is kindly letting me give away five copies. Entries close Friday 5pm!
Also! I just saw a minute ago that Syrup is opening in Canada this weekend in Toronto and Calgary! That is literally all I know. I know this seems like an incredibly stealthy way to release a movie, not telling anyone where it's playing, but that's because you don't understand marketing, and apparently neither do I. OH WAIT I just sleuthed out some info: Friday in Toronto at Carlton Cinemas. You can even win free tickets.
And that reminds me! Sorry, I have to mention this, too. While I was in the US, I managed to collect two movie souvenirs. One is a can of Fukk, which by rights belongs to Mat Coad, because he won a competition to design a Fukk can on this site six years ago. The other is the book "Lipstick Lesbians… And Why Men LOVE Them! (A Girl's Guide to Giving Straight Guys a Hard Time)," which Scat discovers in 6's apartment: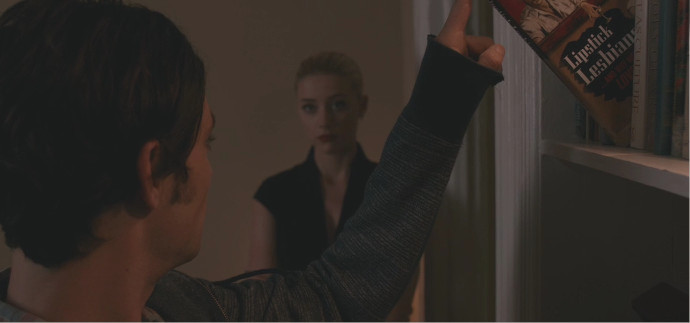 As it turns out, the designer of this prop, whose name I'm going to put here as soon as I discover it, not only did an amazing job creating this work of art, but also embedded jokes on the rear side:
Which I just think is awesome. Also, apparently he used The Scarlett Pimpernel as a template.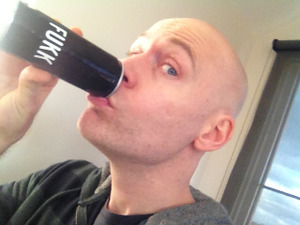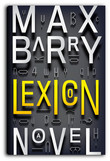 My fifth novel, Lexicon, is out today in the US & Canada, so I'm going to spend some of today visiting New York bookstores, looking at it, and feeling weird. The early press on this book has been kind of shockingly good, like what you dream about as an author but never actually happens, so I'm daring to think that THIS COULD BE IT, the book that allows me to use the word "bestselling" without abusing its definition. Poor word. It has been so stretched.
Bookstore Events: New York, Los Angeles.
But a few days ago I finally watched Syrup and I need to tell you what that was like! I've been building this up for about five years and then I did one tweet, so people have been asking HEY WHAT DID YOU THINK OF THE FILM. But I was traveling and not sleeping and didn't get the opportunity. Now I'm writing this from a New York hotel room at 3:30am, so I'm making my own opportunity, like Tony Robbins.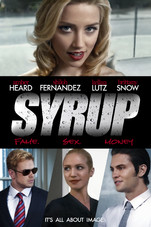 I had been holding out to see Syrup in a theater, since that was what I'd always dreamed about. But then I realized I had a problem, because I could only see it in a theater in the US, and my wife, Jen, wouldn't be there. Jen was a huge part of writing Syrup; she read the first draft one chapter at a time and got all excited about it in a highly motivating and sexy way that made me keep writing. Plus she's an awesome person to see a movie with. But we could only get a DVD in Australia, not see a theater showing.
So I made an executive decision: The night before I hopped a plane (Melbourne to Sydney to Los Angeles to Houston to Columbus all in one 32-hour Friday), Jen and I dragged the sofa up to the TV and closed the curtains, so it would be like a real theater. We were both nervous and held hands and said things like, "Whatever it's like, it doesn't change the book."
And! Then! We! Played! It!
I have trouble summarizing my reaction because I reacted in pieces. I would see a scene and think, "Oh! I wrote this one!" or "Wait that is different!" and I didn't process it at all like a normal person watching a movie. It was all about individual scenes. But my first thoughts were:
"Oh no this is too confusing." The first time I watched it, I was a little shocked at how little setup there was, especially at the start, and thought no-one would understand what was going on. Everything moved so fast. But I've since seen it again (in a theater in Columbus with an actual live audience, and ohhh, how amazing to watch it like a proper movie), and I felt this far less. I think my initial reaction was a novelist kind of thing; films can move faster and the audience still picks up the gist of what's happening.
"This looks really good." The visuals of the movie are really strong. I knew the filmmakers were very big on this, and had an experienced and highly skilled cinematographer in Julio Macat, but boy does that show. Every shot is beautiful and interesting.
"This scene I wrote is awesome!" My favorite parts, for completely selfish reasons, were scenes that played out just like I'd written them in some screenplay draft or other. And then they were on the screen! Some I loved because they were just like I'd imagined (6 making Scat breakfast, Scat shaking a dummy), and seeing them come to life was thrilling; some were awesome because they took my material in unexpected directions, elevating the scene beyond what I'd expected (the monologues, ZephCo's corporate goons—which Josh Pais and Christopher Evan Welch play hilariously well).
I thought this must mean that I am an amazing screenwriter, but later the director showed me some deleted scenes, which included lots of stuff that played out just like I'd written and was really horrible, so I realized the truth was they just kept my good parts. The rest, which turned out to suck when filmed, were quietly executed. So that's lucky for me.
"Amber Heard is amazing." Holy crap. Amber Heard is amazing. I was always worried about how 6 would turn out, but Amber annihilated that character. In a good way. My favorite part of the whole movie is her monologue about marketing love; I think that's perfect. I love Shiloh, too, and many many others, but Amber is amazing. You should make a note so that when everyone else catches on you can be all like, "I actually preferred her earlier work in Syrup."
"How did they do all this?" I've thought this before, when I was on set, but I keep re-thinking it. Novels are easy compared to films. Novels, I just sit there and type and things happen. Films require people to painstakingly create every detail that winds up on screen. It's so practical. They have to wrestle the real world into submission. They have to make decisions based on trade-offs and logistics. And it's so easy to forget because the end result looks effortless.
"OMG ending." I'd heard they changed the ending. I'm not going to say how, because, you know, spoilers. But I had written a particular kind of ending in pretty much every screenplay draft, and then the film went and did something completely different. And it's better! I saw my original ending as a deleted scene and boy did it suck. It sucked a lot. The new one is actually thought-provoking and makes you want to go back and rewrite some screenplays. That may just be me. But I love the ending.
Overall, I think the film is very true to the book, not just in its tone and characters but in how they are both kind of raw and and messy but steam ahead powered by earnest, youthful enthusiasm, never worrying about whether they're being too ridiculous. The film is an indie and if that was a thing for books, the book would be, too. They are a good match. As an author, that's what you want your film adaptation to be. Well, also super successful. But most of all, you want it to be true. This film is true.

"Tour" may be an exaggeration. I'm going to a few places. If you want to see me, come along, and I'll be all like, "Thanks for coming," and you can be like, "That's cool, man, no problem."
Columbus, OH • Chicago, IL • New York, NY • Los Angeles, CA • Melbourne, Australia
Columbus, Ohio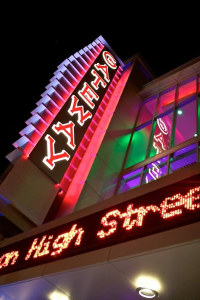 Saturday June 15, 7:00pm ***UPDATED***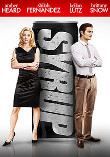 Film screening! Syrup is playing here and I'll be doing a Q&A afterward about what it's like to have a book turn into a movie. I land in Columbus on the night of the 14th direct from Australia so I can't make any guarantees about how I'll smell. Because of the long flight, I mean. Not because of Australia. Australia smells fine.

By the way, Syrup is simultaneously screening not too far away at the Waterfront Film Festival in South Haven, Michigan, with a Q&A with the director Aram Rappaport and editor Robert Hoffman. If you think those guys are better.
Chicago, Illinois
Sunday June 16, 4pm ***UPDATED***

Hang With Max @ Emporium Arcade Bar

I'll be in Chicago two days before my book comes out. I can't do a bookstore event, but I figured I could meet people at a bar or something. I did this in London once and didn't get stabbed at all so I think it's a good idea. There might be some Syrup film people there too. So you could come along and talk about books and films or whatever. Very casual. If you bring a book, I will sign it.

Details to come: I will update this post. And if you know a good venue, please let me know in the comments.
All good book stores, US & Canada
Tuesday June 18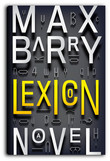 Book comes out. I mention this because you probably want to schedule some time to head to your local bookstore and elbow aside the crowds.
New York, NY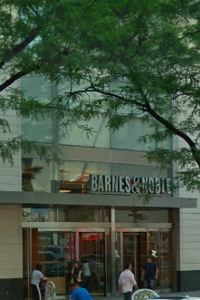 Wednesday June 19, 7:00pm
Barnes & Noble (Upper East Side)
86th & Lexington Ave.
Ph. 212-369-2180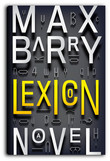 Book launch! I will read from Lexicon and answer questions and stuff. You know. It's a reading. Actually, it's more of a talking. I talk about things. I figure you can read the book yourself. I mean, that's why we had it printed. I will read for a little while, because that's expected, and because sometimes people come to bookstore readings for no particular reason and hear some of the book and think, "That sounds good." Then they buy it and I get to continue being an author.
Los Angeles, CA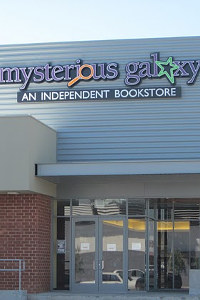 Thursday June 20, 7:00pm-8:00pm sharp ***UPDATED***

Mysterious Galaxy Bookstore (Redondo Beach)
2810 Artesia Blvd., Redondo Beach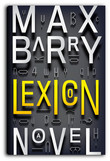 Bookstore event! I read, I answer questions, I sign things. I haven't been to Mysterious Galaxy before, but it was LA Weekly's Best Geek Bookstore of 2012. So that's promising. I only have a few hours in LA, flying in that day and flying out that night, so this will be the kind of visit that's brief and passionate and leaves both of us wanting more, like that time in high school.
All good book stores, UK
Thursday June 20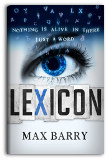 Book comes out in the UK. Sadly, I don't get to be there. My in-laws moved out of Bedford, did I mention? They did. I will probably never go to Bedford again in my life. What am I saying, probably. There is no way I am ever going to Bedford again.
Melbourne, Australia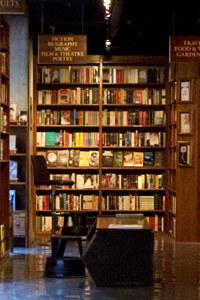 Tuesday June 25, 6:30pm
Embiggen Books
197-203 Little Lonsdale Street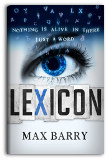 Australian launch! On the day of Lexicon's Australian / New Zealand / South African release I'll be launching it here. Embiggen is awesome. They stock about ten books but they're all really good. They stock more than ten books. That was an exaggeration. But you could seriously just wander into Embiggen with your eyes closed and buy whatever your hands fall on and walk out happy. It's that kind of place.
By the way, the following day (Wednesday June 26 @ 6:30pm) the Embiggen Book Club is doing Machine Man. Details here!
Other Places
You know I'd come if I could. It's not you; it's me. Me, not being near you.

Sometimes people pirate my stuff. Then sometimes they write to tell me they pirated my stuff, because they feel kind of bad about it, and wonder if they can pay me somehow. (Except one time when a guy said he'd pirated a compilation of "100 Great E-Books" and he just wanted to let me know I was in it, as a compliment. A kind of compliment.)
For example:
Now I had read your latest blog post about the movie the other day saying it had been released on iTunes and some cable websites, so <pirate pirate pirate>, so right now Syrup is 42% completed, and with my guilt (and procrastination, as I'm still typing this email) growing with every percentage, I thought to ask your opinion.

I've been looking forward to the Syrup movie since I read the book and thought "This would make a damn good movie!", and then came the first rumours or it actually becoming one, so of course I want to support the production company and in turn future movies/series (I'm trying not to get my hopes up for Jennifer Government), but I can't wait.

Would there be a PayPal donation link I can use to throw you the cost of a movie ticket? Or should I watch it now and when it eventually hits theatres and see you as a waiter on the big screen? Buy the DVD?

What, as the writer of the source material for a movie, do you think is the most beneficial method (to whoever you think deserves it. I of course, thought you) of paying for my viewing pleasure?
The general answer is that you should tell people you watched it. Or that you read it, if it's a book. You should tweet, "Just finished <whatever>, highly recommended," assuming you liked it, or "Just finished <whatever>" if you didn't. Or post on Facebook. Or write a nice review somewhere. If you do this, you are all square in my eyes. In fact, I'd bet most artists and content creators feel the same way. Because the major problem they face isn't that people pirate their work; it's that nobody knows they exist.
Getting people talking is massive. Enormous amounts of time and energy are poured into getting people talking about every single book and film and song ever released. You, talking about a book/film/song, is really valuable. I can't emphasize that enough. It can galvanize all kinds of great outcomes.
A Pirate Tip Jar (Jaarrrrr), on the other hand, would be a bad move. Lots of people work on books and films, not just me; even on a novel, I'm due no more than 15% of what you pay. I don't want anyone thinking they can cut those people out and pay me directly. Also, I suspect the number of people who say they'd love to pay for X if only there were a more convenient way of doing so is far greater than the number of people who would actually pay. I mean, it's a nice sentiment. But we generally pay for things because we have to. That's just how it works.
So instead of wishing you could tip an artist for something you pirated, talk about it. That's good for everyone involved. If you have nothing good to say, even a simple mention is helpful. Not a bad mention. That's not helpful. But the difference between pirating something and saying nothing vs. pirating something and mentioning it to other people is really, really huge.
Of course, piracy is kind of wrong. I feel I need to say that explicitly. It's kind of wrong because people who create something like a book or movie or song should be able to decide if and how they'll sell it. Just because it's more than you'd like to pay doesn't mean it's fair to pirate; everything is more than you'd like to pay. If Justin Timberlake made a CD and priced it at a thousand dollars a copy, such would be his right.
But it would be pretty silly of Justin to think people wouldn't pirate that. Especially fans, and especially if that CD was only released in one country at a time and didn't work on everyone's players. I would be surprised if Justin wasn't fully aware that this situation would provoke quite a lot of piracy. I have no idea why I'm using Justin Timberlake as an example. That just happened. But what I'm saying is that while piracy is generally bad for artists, and we want you to buy real books/tickets/MP3s/downloads, I recognize that piracy happens sometimes anyway. And if it happened to you, and you want to say thanks, you can do a lot of good by spreading the word.

Official Syrup Website • Trailer • Watch on iTunes (US) • Cable On Demand (US) • Early Theater Screenings (US) • Clip Where Max Tries to Act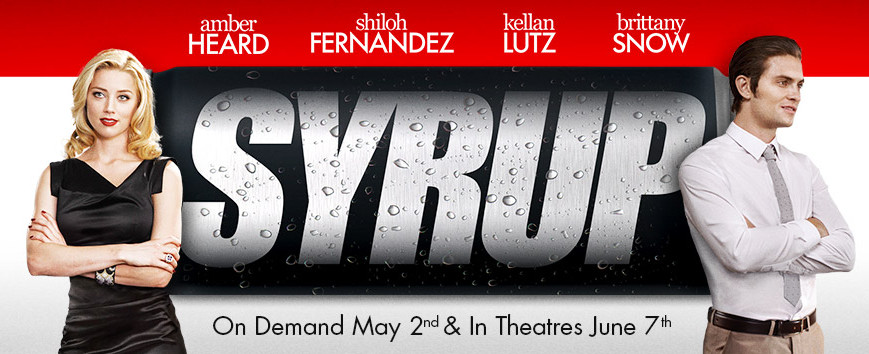 People are about to watch my movie. Seriously. This is happening. Until now, I've been able to say, "Oh yes, I have a movie," and no-one could say, "Yeah, I thought that SUCKED." Because no-one had seen it. That time is over.
Today, May 2, 2013, Syrup launches as a "sneak" on Video on Demand, which is something I had no idea about until very recently, but I have since learned is how you release an indie movie to generate buzz ahead of its theatrical release. If you live in the US, you can rent it right now from iTunes. Also, if you have some kind of premium digital cable thing, you can use that. I'm not sure of the details there. I don't live in the US. But it's something like that.
The dream here is that Syrup breaks into the Top 10 Movie Rentals on iTunes. That would be huge. So if you are in the US and want to help push it up the list, today is the day.
But back to me. Over the last few years I've thought a lot about what happens if, like, the movie turns out to be so bad that they write newspaper articles about it and people come to my house asking why I would visit such an abomination upon the earth. Also, what if it becomes the breakout hit of the year and they write newspaper articles about it and people come to my house asking can I help them sleep with Kellan Lutz.
Because movies get seen by a lot of people. And those people have strong opinions. That's a little daunting. Also, some people who read the novel have been amazingly supportive of my career over 10 or 15 years, and I don't want them to be disappointed. Yet that's kind of unavoidable, when adapting a book, since a film can never match what's in your head.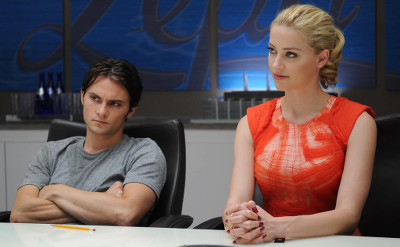 On top of this, I still haven't seen the movie. A while back, I decided to wait until I could see it in a theater, since it's kind of a big moment for me. But I didn't anticipate this on-demand sneak thing. I'm in Australia, where the film isn't released until November, and now I have this slightly awkward scenario where a lot of people will see it before me.
So the movie is suddenly here and I don't know what people will think. Before I have a book published, I've at least seen some early reviews, and the publisher has completed a print run (thrillingly high or alarmingly small), which gives me a general idea of what to expect. But today: nope. Which is kind of scary.
But I am going to try not to become lost in that, and remember to enjoy how awesome it is to, you know, have a freaking movie. I've seen authors do this: they dream of being published, but when it finally happens, they're so preoccupied with whether it will be a hit that they don't seem to actually enjoy the moment.
The reality is most books and movies aren't breakout hits: they are read or seen by some people, and some of those people love it and some don't. And that's it. This isn't very romantic, not the kind of thing you imagine about when you dream of being an author or actor or filmmaker. But it's still pretty great.
One of my favorite moments as an author is an email I received from a 14-year-old who said Jennifer Government was the best book he'd read in his life. It was so cute. I mean, obviously he hadn't read that many books. But no-one could be more gushingly, genuinely enthusiastic than this kid. I will never get a more delighted email, no matter how many books I write, or how many people read them. As far as creating something that connects with people, that's as good as it gets.
This movie process has been awesome all the way through. I got to write scripts, swap ideas with the director, hang out on set, and try not to strangle Amber Heard with a necklace. These are all amazing moments that I would have killed for as a 23-year-old, writing the novel in my car during lunch breaks from my sales job. And today is another one.

A clip from Syrup featuring my big-screen debut. Look at me rocking that role. You could totally believe I was a waiter. Some assistance provided by Amber Heard.
Here is the blog I wrote about filming that day, by the way, if you'd like to relive my gut-churning terror.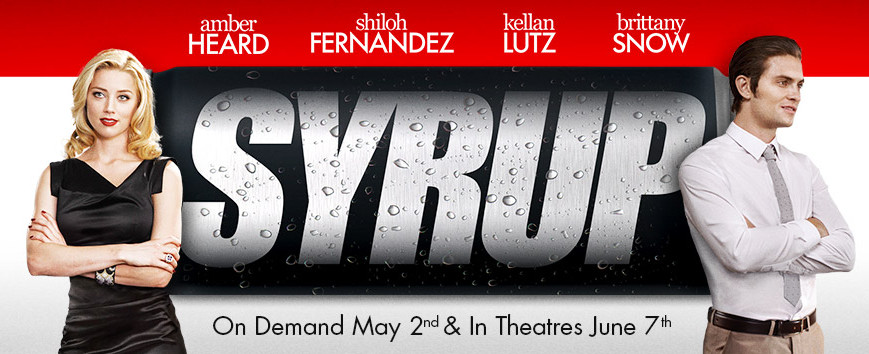 I'm seriously losing the battle to Facebook and Twitter. It's just so easy to post stuff there. I hardly even need to think about it. For a blog I actually have to spend time composing my thoughts. I know that's not really evident, but I do.
As a result, I have accumulated a COMPENDIUM OF NEWS, each item of which failed to inspire a blog all by itself, but which nevertheless requires mention. So buckle in, sparky.
Syrup Movie: Trailer & US Release Date
There was a teaser, now there's a trailer! Those are different, trust me.
The film is out June 6, 2013 in the US. But there's something called a "sneak on demand" on May 2nd, which I think is some kind of Internet thing? I don't know. Will it be viable outside the US? I don't know! But I'm excited!
I think that's my shoulder at 1:10. I'm not sure. I didn't think I was wearing a jacket. But I was definitely standing behind Amber Heard while she made sexy at the camera and no-one else was around. Don't tell me I imagined that. It happened.
Lexicon: Early Reviews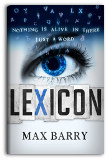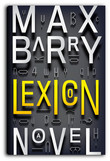 My fifth novel, Lexicon, comes out June 18 in the US & Canada and a few days later in the UK, Australia, South Africa, and New Zealand. I'm not promising this is the novel that will finally allow you to talk about me without the other person saying, "Who?", but the early signs are good. There's a big print run lined up, early reviews are very positive, and awesome people are saying awesome things:
"About as close you can get to the perfect cerebral thriller: searingly smart, ridiculously funny, and fast as hell." —Lev Grossman, New York Times bestselling author of 'The Magicians'

"Lexicon grabbed me with the opening lines, and never let go. An absolutely thrilling story, featuring an array of compelling characters in an eerily credible parallel society, punctuated by bouts of laugh-out-loud humor." —Chris Pavone, New York Times Bestselling author of 'The Expats'

"I don't know how you could craft a better weekend read than this novel of international intrigue and weaponized Chomskian linguistics. It's the perfect mix of philosophical play and shotgun-inflected chase scenes. Like someone let Grant Morrison loose on the Bourne identity franchise." —Austin Grossman, author of 'Soon I Will be Invincible' and 'You'

"Dazzling and spectacularly inventive. A novel that jams itself sideways into your brain and stays there." —Mike Carey, author of 'Hellblazer' and 'Lucifer'
And there's this Amazon.com review I really like and this one and this from bitethebook.com and a soon-to-be-released starred review from Kirkus.
Also film rights to Lexicon have been optioned by Matthew Vaughn, director of a slew of incredible movies including Kick-Ass 1 & 2, X-Men: First Class, Startdust, and Layer Cake. Did I mention this already? I don't think I did. Anyway, I think we've been down this road often enough to realize that "optioned" doesn't mean "there will definitely be a film." But it does mean there might be. And I think Matthew's record of turning optioned properties into films is running at around 90%. That's what he told me, anyway. So that could happen.
Book Tours & Events & Things
Melbourne, Australia: I'll be launching Lexicon at an Embiggen Books event on the day of Aussie publication (Tuesday 25th June). They have a Countdown Timer running so you can always know exactly how many seconds you have to wait.
USA: So this is kind of awkward, because I have a film and a book coming out a few weeks apart and I live a really long way away. I mean, it's the good kind of awkward. It's the kind of problem you like to have. But at this stage it's looking like I'll be in the US for early June, either in LA or New York, but won't come back for a whole tour. I'm thinking I might do some kind of pre-release thing in whichever city I visit, where I read from the new book and then leave you all frustrated and unable to purchase a copy.
UK & elsewhere: Sorry, you need to make me a lot more famous, to justify those air fares.
Jennifer Government
Do you want a Jennifer Government wallpaper? Of course you do! You're not crazy!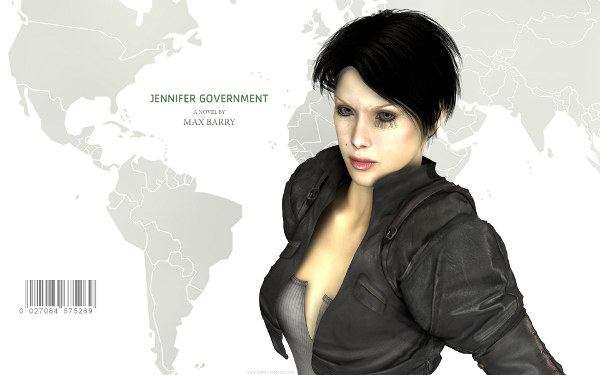 Digital artist Mark Hirst decided to do these for no particular reason and kindly made them available in several sizes.
Also these days Jennifer Government is looking less like a film and more like a TV series. Just FYI.
Machine Man
Look at this Korean Machine Man cover. There's a flamingo on it. Are there flamingos in the novel? No! Not that I recall. But there it is. The back of the cover has a whale and a stag as well.
On the right is the Japanese cover, which I think is super cool. That comes out on May 10. I say this knowing full well that not a single person will think, "Oh, that's good to know. I'm an English-speaking Max Barry fan living in Japan right now." But still.
Also that Machine Man film is still ticking along. You might have thought that since there has been nothing announced for a year or two, that dream was gone. But no! FYI.

I was in a bookstore recently and there was a boy, about 10, who wanted a book. His dad was not sure he should have the book. The issue wasn't the book itself; the book was fine. The issue was that the book was #3 in a series, and Dad established that the boy had borrowed the first two from a library.
"Why don't you borrow this one from the library and I'll buy you a different book?" he said.
The boy mumbled something I didn't catch but I'm guessing was some variation of, "I want this book."
I figured that Dad was seeing the book as an object, and feeling it would be wrong to have book #3 sitting on the shelf without #1 and #2. The boy was seeing the book as a story he wanted to get into his head. He had already loaded books #1 and #2 into his head and he didn't much care how #3 got there.
E-books have made a lot of people think about whether they want books or stories. Because you can get stories cheaply and efficiently in e-book form, but you can't put them on your bookshelf. You can't gaze lovingly over your collection, or hold them in your hands and feel the paper speak to you.
Really, though, it's only the latest manifestation of an old dilemma. There have always been people who have treated books with reverence, laminating their covers, turning their pages with care, and never cracking their spines. And there have been people like me.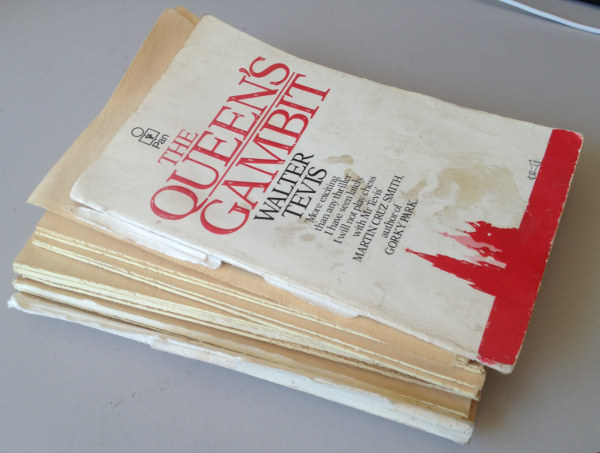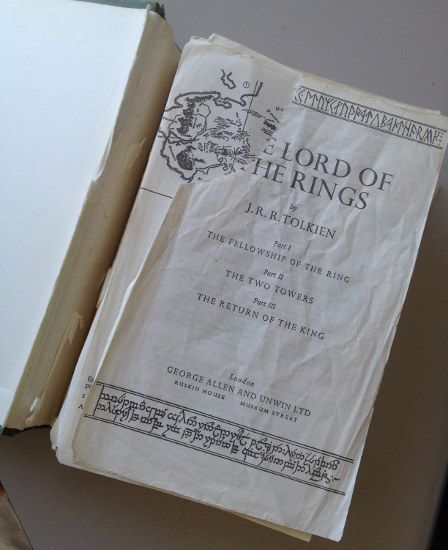 I don't set out to destroy my favorite books. They just wind up that way. And while I have no problem with people who take care of their books, I have to admit I don't quite get it. Sometimes people bring me a book to be signed and they apologize because the book is dog-eared and crumpled. I love seeing that. Those books have been loved. Hard.
P.S. The boy got his book. I saw him walking out with it.