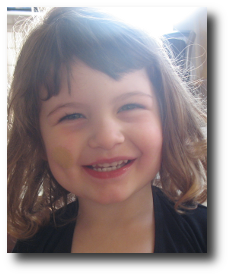 One morning recently I climbed the stairs to my study, coffee in hand, and found a pile of books on the top step. There was a Swedish Jennifer Government, a Polish Company, and four or five others. The front panel of my computer case was missing: I eventually found it inside the roofspace, along with my Richmond Tigers scarf.
I went back downstairs and confronted my daughter. "Have you been moving my things around?"
She grinned, one of those ridiculously beautiful ear-to-ear smiles, and said: "I stranged your room."
Since then, Fin has stranged my study several more times. Once I heard movement up there, called out, "Are you strangeing my study?" and she giggled and admitted yes. She loves to strange.
Today she turns four. Happy birthday, bunny. Thank you for strangeing my life.

Tomorrow I'm writing a short story in public. If you're in Melbourne, you can stop by and watch me do it. This is the plan: I turn up at Federation Square Atrium 11am Saturday with a laptop and no ideas. I plug the laptop into a projector, to broadcast on the big screen hanging above my head. Then I spend the next three hours drinking coffee, staring into space, and attempting to write something.
I've wanted to do this for ages; in fact, in my first ever bookstore event (Union Square Barnes & Noble, NYC, 1999) I talked about how there should be bookstore writings, not readings. Because while I'm interested in what my favorite authors have to say, I'm really interested in how they work. I would love to see how they put a story together.
So this year I suggested it to the Melbourne Writers Festival, and they liked the idea enough to turn it into a 7-day spectacular: one writer embarrassing herself in public between 11am and 2pm per day. Saturday 22nd is my day, but you can also catch Eric Dando (today), Cyril Wong (Sunday 23rd), Reif Larsen (Thursday 27th), Evie Wyld (Friday 28th), Shaun Tan (Saturday 29th), and Jessa Crispin (Sunday 30th).
Clearly, this has the kind of potential for catastrophic public breakdown that I crave, so it should go well.
P.S. If you want to drop by at 11am and suggest some story ideas, that would be really handy.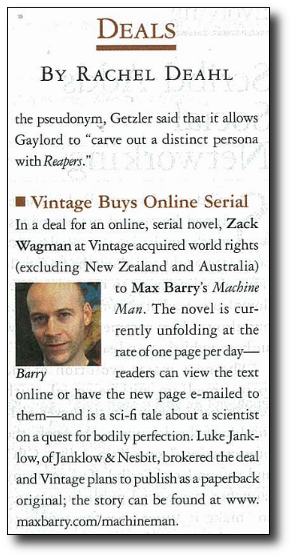 As reported in Publisher's Weekly, Vintage Books will bring Machine Man to life in print form in the US & Canada, most likely in 2011. This will be a rewritten version of what's currently going up online—since I think the two mediums have very different requirements, plus I haven't yet seen a first draft I didn't want to rewrite. Or any draft, actually. But that's my personal issue. So anyway, once I finish the serial, probably later this year, I will start trying to figure out how the hell I do that.
The particularly cool part is that Vintage (like Scribe in Australia & New Zealand) is happy for me to keep the serial online. Which may sound obvious to you, but that idea caused some publishing industry minds to EXPLODE. Their natural inclination is to scrub the internet free of any potentially competing versions whilst locking down e-books so tightly they don't work on your device. That's possibly just my bitter experience talking. But this is a significant step for a publisher, and I'm really happy Vintage took it. I didn't want to take down my online serial. That would be like leading my child into a forest and abandoning her there. Then, I guess, going home and building a new child based on the first one. And offering her in print form. Wait. This analogy may have gotten away from me.
What we'll have, then, is the original, unedited serial online, and a more polished (I was going to just say "polished," but that could be a stretch) novel based on it. Given my track record of rewriting books until they cry, it will probably differ quite a lot from the serial. But on the other hand, it won't have reader comments. Which is a shame, because those are awesome. It's like book club five days a week.
This all makes a pretty amazing outcome for a project I started just because a reader bugged me. It's been successful in a whole lot of ways. So thank you.
P.S. I can't believe that Publisher's Weekly's "Deals" section, by Rachel Deahl, isn't called "Deahls." That's a no-brainer.
P.P.S. My favorite sci-fi site just posted an article about this entitled "Max Barry Jams In Public, Creates A New Publishing Model, Slices Your Legs Off." Ahh, bless your nerdy hearts.

Here's me talking about risk:
(Link: Max Barry On Risk, ABC Fora or via The Monthly.)
Actually, first that's Julian Morrow, introducing me. I feel I should point this out because you don't see me very often, and even to me, all thirty-something white guys with no hair look the same.
Australians with digital TV can catch this on ABC2: an extract (I think) this Sunday at 6pm, and the full thing on Thursday at 5:30pm.
This lecture was for Sydney PEN's Voices, and delivered at the State Library in Sydney on July 15, 2009. It's not the kind of thing I usually do. In fact, it's probably the first time I've been asked to write something serious since I became a novelist. It was a cathartic experience: I'm deeply grateful to have had the opportunity to do it, and to the audience on the night for being so supportive.