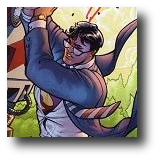 Okay, this is too funny not to mention. I offered to send some signed books to Kurt Busiek—the writer who put Jennifer Government in Clark Kent's hands in Action Comics #838—and he kindly sent me some of his stuff in return.
Included in the stack of goodies that arrived on my doorstop was a signed copy of that issue—with this modified cover.

As I mentioned, I'm not doing any publicity while I'm in England. But I do intend to have a beer at the Warrington Hotel [Map] at 2pm this Sunday the 28th. So if you're in range, and you care, you could come along.
I don't really know how this will work, but I am imagining something like this: you see a 6'2" guy with no hair speaking in an Australian accent, wander over, and say, "Are you Max?" And I say, "Yes, yes I am. Who are you?" And we take it from there. My only rule—and it's a very strict one—is that there shall be no mention of the Ashes.
I won't have any books to sell, but I'm happy to sign anything you bring along. And I mean anything. Underwear, other people's books, you name it. I'm desperate for recognition.
By the way, I was originally thinking of inviting people to a pub in Bedford, but realized I couldn't live with the stain of that crime on my soul.
Update: Well that was great fun! Thanks to those who turned up. I gotta say, it's pretty damn cool to be able to gather an instant mini-party of interesting people just by posting on my blog.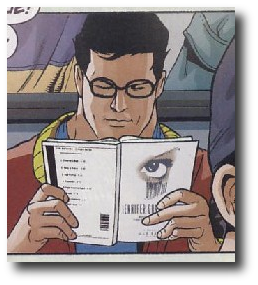 Okay, let me just get my breath. All right. The other day—no, wait, I need another minute.
Okay. Okay. I'm just going to say it: in the latest issue of Action Comics, Clark Kent is reading Jennifer Government.
Action Comics is the series that introduced Superman in 1938. And now he's reading my book.
This is possibly the greatest moment of my life.
Just before I left Australia, I noticed I had a couple of emails with odd subject lines, like "Superman reads Jennifer Government." But I had a plane to catch and didn't get around to reading these for a couple of weeks. Then I was sure that it couldn't be true, that maybe Clark was reading a book that just looked a bit like one of mine if you turned the page upside down and squinted, because… well, it just couldn't be. But if that was happening, a lot of people seemed to be doing it.
So I emailed DC Comics, pausing only briefly to wipe the drool from my keyboard, and soon had not only confirmation that this extraordinary event had actually come to pass, but a fascinating (and flattering) explanation as to how:
I'm glad you enjoyed the bit — I'm Kurt Busiek, co-writer of that issue, and the guy who violated copyright on your book cover for my own nefarious purposes. The idea, mostly, was that in the past, whenever Clark mentions reading anything, he almost invariably mentions Dickens or Austen or some other long-dead writer that the audience knows from being forced to read them in high school lit class. Since Clark's supposed to be in his early thirties, I want him to come across like a reasonably young guy, not like your college professor's dad (and I say that as a big Jane Austen fan; it ain't the quality, it's the image). So I wanted Clark to be reading something current, interesting and smart. Something that made him look like he's part of this century and knows what's good.
I'm not ashamed to admit that this made me giggle like a schoolgirl who just found the penis pictures in her biology textbook.
My new goal is to land a poster-sized copy, so I can frame it and hang it somewhere conspicuous, like on the front of my house. I mean, Superman! Superman!

I now believe that all girls want to marry horses. Not just little girls. Grown women. In fact, it has become clear to me that every personality flaw in a man, as perceived by a woman, is his failure to be more like a horse.
This occurred to me last night, while I was reading a parenting manual called Raising Girls. So far this book has been full of advice so obvious that it's simultaneously insulting that someone thinks I need it, and alarming that some people might—advice such as, "try to build her self-esteem," and "understand that not all girls like traditionally female toys," and, "don't have sex with her." Then I came to a section on how pre-pubescent girls tend to love horses. As I read, I realized that it also perfectly described the personality type that many women seem to want in a man:
Qualities that at first look like opposites—greatness, strength, and speed versus submission and obedience—can be combined in this powerful companion, which encourages the young rider to try it out herself.

A girl thus learns that modes of behavior like empathy and gentleness, in combination with their opposites—such as assertiveness and exercising power—can work for the horse, for herself on horseback, and for herself in everyday life.

—Quoted from "Developmental Crises in Girls," by Dörte Stoll, 2002.
So that's been the problem all along: horses making us blokes look bad. All we need to do to make ourselves more attractive to women in any given situation is think: "What would Black Beauty do?"
I would like to balance this theory out with a complementary one about what men find attractive, but all I've got so far is that men want women to be soccer balls, and I didn't want to sully my site with a gratuitous picture of Pamela Anderson.

I'm in England. Huh, when I say it like that, it's as if I just breezed halfway around the world during my lunch hour, instead of undergoing 30 hours of torture inside a metal tube with an 8-month old baby and a planeload of people conspiring to prevent her from sleeping.
Jen's family live in England, and occasionally we fly over to visit them. We usually stay for at least a month, and—since the purpose of the trip is to spend time with them—visit absolutely no tourist attractions or places of interest. We just hang out in Bedford. For that reason, I have the general impression that all of England is a barely habitable crap-hole full of people who look like they're about to stab you for your mobile phone, then use it to call their dealer.
Well, that's not quite true; I have visited a few other places in England, and with one exception (Milton Keynes, I'm looking at you) they have been quite beautiful, or at least interestingly history-soaked. But Bedford is neither. I am told that Bedford's heyday was in the 1950s, when the local brickworks was the town's main employer, and you can tell this is true because every single house is constructed in the exact same style from the exact same red brick. Other Bedford attractions include the River Ouse (pronounced "ooze"), which is exactly as charming as it sounds and patrolled by highly aggressive ducks, and… no, actually, that's it.
Most English people I speak to are hazy on where, exactly, Bedford is. The answer is you don't care. I think you're better off not knowing how close you may be to Bedford. If, in your ignorance, you do happen to stumble onto it, well, just hurry on before any of it gets on your clothes.
I have no publicity plans while I'm in England; for some reason my British publisher has always been reluctant to expose me to the public, like a girlfriend embarrassed to introduce me to her parents. I know what you're thinking: at first I thought it was the hair, too. But no: apparently you just don't do bookstore events in this country unless you are sufficiently famous. More sufficiently than me, I mean. I'm not sure why, exactly. Maybe it's considered bad manners.
The police just chased some guy down the street right outside my window. I'm not kidding. Ah, Bedford.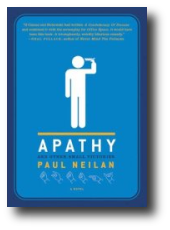 For the first time on this site, I'm about to plug a book that isn't mine. I know! I feel like I'm growing as a person. Here's what happened: I got sent this book pre-publication to see if I'd be interested in providing a quote for the back of the book. Apparently the theory is that if people see a quote by some author they've never heard of, they think, "Hmm… someone that obscure must know what he's talking about."
I get sent quite a few books this way, which is good, because I don't have to pay for them, and bad, because I don't get to choose them, and they tend to suck. So I end up on the backs of very few books. (If anyone has seen a book with "Meh, it kind of sucked. —Max Barry, author of Company" on it, though, please let me know.)
Then I got sent a book that was so good I thought they must have confused me with someone much more popular. Like maybe Jesus. This book rocked. It was the funniest novel I'd ever read. It was so good that when I finished reading it, I immediately read it again. And then a third time. It's currently my favorite novel.
The book is Apathy and Other Small Victories, by Paul Neilan. It's out in the US today. If you like my stuff, I seriously recommend that you get this. And if you don't mind Chuck Palahniuk, either, a gaping hole in your life that you never knew existed is about to be filled. Go buy it. Now.
(Disclosure: I met Paul earlier this year, after I'd read his book. But he didn't promise any sexual favors in exchange for me pumping up his book. Really, he wouldn't be moved on that.)
Update: Paul has a blog!