This has been my last two weeks:
I received a copy of the Jennifer Government screenplay.
I sold the film rights to Company.
I talked to John Cusack.
The guy who is probably going to write the Company screenplay e-mailed me to talk about his ideas.
I got a bunch of great new Company reviews, including a fantastic piece by Douglas Coupland in The New York Times Book Review.
I did a bunch of interviews.
The L.A. Times invited me to review a book for them.
I wrote a proposal for a TV series for the Sci-Fi channel.
Wil Anderson asked me to write a TV series for Australian TV with him.
I worked up a final polish of the Syrup screenplay.
The Chinese language version of Jennifer Government was released.
I made some progress on getting NationStates 2 underway.
I got invited to two festivals, one conference, two workplaces to give talks, and asked to contribute writing to four different places.
Ordinarily any one of these would be so cool that I would scamper to the keyboard and blog all about it. But there is just so much cool. To anybody but me, I suspect it is a sickening amount of cool. Plus I'm getting way more e-mails from readers than usual, including many hilarious or scary ones that are also clearly worth blogging about. Basically, there is so much cool stuff happening right now that I could blog about it non-stop, if only there wasn't so much cool stuff happening right now.
I know what you're thinking: "Oh, poor Max, I cry fat salty tears of compassion for you; how terrible to have all your time taken up by the realization of all your life's dreams." And you're right; it is poor of me, because when someone, say, takes the trouble to compose a photograph involving my book, one of Stephen King's, and a monkey, I shouldn't allow that to pass without comment.
(The best time to write to an author, I have decided, is about two months before his book is published. That's when most other people have forgotten his existence and he's feeling frightened and desperate for love.)
Here is my weak compromise: an update in point form. This way I get to summarize what's been happening without writing 10,000 words, and hopefully also without making too many people sick to their stomachs that so much good stuff can happen to one guy.
It feels weird to read someone else's adaptation of your book. Really weird. Louis Mellis and David Scinto have written a highly stylized version of Jennifer Government—the things they do with dialogue are just amazing—but it's like seeing your kid dressed by a total stranger: she's the same, but so different. It's surreal on the same level as when I read reviews that call me "Barry," as if I am an Important Person.
Company will be developed for the screen by Tom Shadyac and Michael Bostick in conjunction with Universal. And boy are they fast movers! They're already talking to Steve Pink about writing the screenplay. Steve was a writer on one of my favorite movies, Grosse Pointe Blank, as well the excellent adaptation High Fidelity. Not only that, but he was good enough to drop me an e-mail. What a guy.
"Hi, it's Johnny Cusack." Only one of the coolest guys on the planet. On the phone. Talking to me. While my wife hyperventilates beside me. (I think Cusack even trumps Wil Wheaton, as far as Jen is concerned. Because he was in Stand By Me

and

Say Anything. I am a little concerned, though, that I only seem to be meeting celebrities that my wife has had huge crushes on.) John—I mean Johnny—I mean Mr. Cusack—was interested in the Company film rights, and although they ended up going elsewhere, maybe we'll get lucky and still get his involvement somehow.
If there is anything more professionally satisfying than having a absolute titan of the writing scene—a guy who is clearly my literary superior in every conceivable way—write a bunch of flattering things about my work in The New York Times Book Review… then it's probably illegal.
And some standout e-mails from readers:
Kyle, a student in Canada, decided to create a web site for Zephyr Holdings (the company in Company). You know, just because he could.
Hobbie wrote to tell me that Russian Coke tastes a lot like Fukk is described in Syrup. My lawyers are just waiting for them to put it in a black can.
Christian delayed responding to a fire alarm in his building so he could finish a good bit of Syrup. Nice.
Phill says I convinced him to convert to from Windows to Linux, which makes me feel all warm and subversive.
Rachel e-mailed me an exhaustive explanation of why American shower faucets work that way and how to master them.
Brandon explained that although he loves my web site he is never going to buy one of my books because he doesn't want to "spoil the mystery." I was going to ask him to elaborate on this theory, but then I decided this was one mystery I probably didn't want solved either.

In many religions, it's forbidden to speak the name of God. Or at least, the manner in which you can speak it is restricted: for example, Judaism forbids defacing the written name of God, and most prohibit the use of God's name in a derogatory or insulting manner.
I thought about this when I heard about H.R. 683: the Trademark Dilution Revision Act, which was passed by the U.S. House of Representatives last year and is now headed for the Senate. The most interesting part of this bill—to me, at least—is that it may make it illegal to use trademarked names in fiction. So I might henceforth be unable to publish a novel like Syrup (which is set partly within Coca-Cola) or Jennifer Government (which features Nike, McDonald's, and others).
Many people seem to think that's illegal already. When I was writing Syrup, I was often told it would never be published until I took out all the real company and product names. I remember one guy in particular telling me the "Golden Rule" of fiction writing: "Never use a Coke can as a murder weapon." Because, apparently, Coke would descend on you with an army of lawyers. You could only get away with it, he said, if you used the product in a positive way—for example, your hero loves drinking Coke. But he doesn't use it to kill anyone.
This sounded ridiculous even at the time. I wasn't pretending that my novels exposed actual events that had taken place in Coke or Nike; I was just using them as a setting, in the same way I used Los Angeles and Melbourne. I could have invented fictional companies, just as I could have invented fictional cities, but then I'd also have had to work in descriptions and history to build up in your head the kind of company or city I wanted you to see. Coke, Nike, L.A., and Melbourne were all convenient shorthand.
And sure enough, I didn't have any legal issues in the U.S. with either Syrup or Jennifer Government. In both cases the publisher wanted a legal disclaimer pointing out that they were works of fiction and not based on real events, but that was it. We were never contacted by any company and never sued.
(Things were different in the UK, where free speech laws are weaker. Syrup has never been published there, and the publisher got more and more worried about Jennifer Government the closer we got to publication. Eventually they got a whole bunch of lawyers together to come up with a legal strategy, and this was: wait six months and see if anyone sues the American publisher first. If you had gone to law school for six years, you too might be able to come up with brilliant tactics like this.)
Part of the reason Syrup and Jennifer Government were able to be published was trademark law. This allows one company to sue another if they think they're using a confusingly similar name or logo; in essence, the goal is to prevent customers from being deceived by imitators. But that's all: the law contains a specific clause—a clause that H.R. 683 will rewrite—denying companies the ability to block non-commercial uses of their name, such as when it's incorporated into a novel.
The current situation is exactly as it should be. I don't believe I should be allowed to deliberately make up lies about companies and pass them off as the truth, nor start selling my own brand of sneakers called "Nike." But if I'm writing a novel about cola marketing, why should I have to pretend that Coke and Pepsi don't exist? Companies have made themselves loud, intrusive parts of society; why should artistic depictions of the world have to scrub out any unsanctioned mention of them?
But this is exactly what companies want. They spend billions of dollars to get their names on our lips and their logos in our eyes, but letting us talk about them is dangerous: we might say something they don't like. They want what Naomi Klein calls the "one-way conversation:" to be able to speak to us—endlessly so, through billboards and television and radio and product placement in your movies and the back of your bus ticket—without allowing us to speak back. Unless, that is, we're saying positive things about them; unless we're "on message." And so they seek complete control over their names, to ban us from uttering them unless it is to speak praise.
Companies used to be pieces of parchment. Then they gained more rights and more protections until they had the legal status of a person; you can now be sued for defaming them. But that's not enough—of course not; nothing will be enough so long as their inbuilt goal is to endlessly expand. So now they want to be more than a mere person. They want the kinds of rights that have previously been reserved for the superhuman. They want to be gods.
Note: There are some interesting articles on H.R. 683 at Public Knowledge, Ars Technica, and Public Citizen.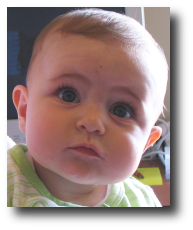 In the grand tradition of posting news about myself that chuckpalahniuk.net reported first: I've written an essay. Webmaster Dennis Widmyer is putting together a great resource for writers called… uh… The Writer's Resource, and asked if I'd contribute something. So I wrote this piece about rewriting. If you're a writer, you might find it interesting.
If you're not, well… isn't this picture of Fin cute?

I was starting to get worried: it had been almost two weeks of near-constant praise. That's just not natural. Fortunately, this morning a breath of fresh air blew into my Inbox: a letter from Mike.
Dear Max,

I have played NationStates for quite some time and, after listening to your interview on NPR this morning, my assumptions about you were proven startingly correct. I assumed that you were a pretentious snob who is an ego-aggrandizer because your book reviews are consistently negative yet you continue to produce such infantile drivel with such a delusionary sense of accomplishment and self-importance. What you fail to realize is that your "insights" are nothing more than a few whiney complaints of a mal-adjusted mal content who has failed to cut it in the real world. Your comments on NPR, which in my opinion coddles this approach to life, were nothing short of predictable.
I like how Mike's assumptions were so accurate that even he is startled by just how on target he was. He must have even nailed my accent. His next sentence is a little less clear; I'm not sure how "consistently negative" reviews would lead to me being an egomaniac. That would work work the other way around, wouldn't it? And I can't back him on "failed to cut it in the real world;" I mean, I'm not living on government subsidies, here, Mike. But I am impressed that he listens to NPR even though he doesn't like it. Put this together with his willingness to write to authors to tell them how bad they are, and you have a man who isn't afraid to confront what he disagrees with and set it straight. I appreciate that kind of directness, and I'm sure Mike does, too.
Let me make a connection between this attitude in your book and this attitude in nationstates. You have created a game in which, much to the difficulty of many Americans (such as myself) to comprehend, the game operators such as yourself rule as their judges of themselves and of their own actions…
This goes on for a bit and after a while even I lost track of what he was talking about. But I gather it's his main point, because he starts writing IN ALL CAPS and swearing. Most of my hate mail is from NationStates players, which is something I've never been able to work out: if anyone is entitled to yell at me, surely it's the person who shelled out twenty bucks for a book she didn't like, not the guy who has spent the last year playing my web game for free. But for some reason it doesn't work like this.
Mike closes with:
I strongly suggest that you get it together, Max. Time for a change, perhaps?

Mike US of A
Mike! Thank you for your e-mail. It's been so long since someone roundly abused me for nothing in particular that I was starting to get nostalgic. I appreciate your advice, although I am not sure what you are recommending. But in any case, it brightened my day, because now I feel as if a little balance has re-entered my life, and I didn't have to be hit by a bus to get it. Take care, Max.

I am sick. But I have a conference call to L.A. about my Syrup screenplay so I'm up and at my keyboard, with a glass of orange juice to my left and a bowl to hawk up phlegm into on my right. (Sorry. That line between what other people find interesting and what they really don't want to know? Sometimes I have trouble tracking that.)
I open up my e-mail client and see, oddly, a lot of new mail. And most have "New York Times" in the subject line. Some also have "congratulations" or "rave."
And I don't open any of them. I just sit there, stunned, unable to believe what a ridiculously lucky streak I am on.
I finally give in and check Amazon.com. Company's sales rank has jumped to 22. If I'm reading this right, at this moment it's the fifth best-selling novel, behind Harry Potter, The Da Vinci Code, that damned Kite Runner, and—yes, of course—Stephen King's Cell.
This is so amazing I have to run into the bedroom and wake up Jen.
We make too much noise and Fin wakes up, too. I hold her while we read the New York Times review. It's by Janet Maslin and is jaw-droppingly good. And it actually says:
"Company" is Mr. Barry's breakout book
If there is such a thing as balance in the Universe, tomorrow I am going to be hit by a bus, bankrupted, and disemboweled.

I sleep in later than I mean to and have to shower, dress, and pack so fast that I barely have enough time to steal a hotel pen. I'm meeting my friend Charles for breakfast, and we decide to use the hotel restaurant. This turns out to be a mistake, as Charles manages to order the world's most expensive bagel, a whopping $18 because along with the juice and coffee it qualifies as a "continental breakfast."
Our plan is to walk to the Museum of Natural History, but it's such an extraordinarily sunny day that instead we end up just chatting on a bench in Central Park. During this time I watch a lot of parents with prams go by, and enjoy peering at their babies until I see one with beady little eyes and a hairy face. It's a miniature poodle. Yes. In a pram.
That afternoon I have lunch with my impossibly cool agent, Luke, in the kind of restaurant where ladies come to complain to each other about their nannies. (Seriously. I hear them.) I also meet Luke's dad, legendary agent Mort Janklow. This is a little nerve-wracking, because if the stories I've heard are true, when Mort enters the room editors fall to the ground and cry. But he seems quite normal; friendly, even. I guess that's how it works: the killer is never the one you expect.
I catch a ride out to JFK where I stand in the check-in line behind a Hasidic Jew and a blonde woman dressed as a cowgirl. I feel as if the Universe is trying to tell me something, but I'm too stupid to understand the message.
It's a little over six hours in the air to L.A., then I have a couple hours on the ground before the 16-hour flight to Melbourne. The most interesting thing about this is that we cross the International Date Line at around midnight, so I miss Friday entirely. When it's my time to die, I want that day back.
This makes it Saturday when we touch down in Melbourne. I've taken no more than ten steps off the plane when I hear someone saying, "Yeah, they'd make Riewoldt captain in a second anywhere else." They're talking about Aussie Rules Football. Ahhh. It's good to be home.
I find myself walking quickly toward the baggage carousel—not just places-to-be quick, but drug-mule-freaking-out quick, and force myself to slow down. Of course, I know the odds are pretty high that (a) despite our plan, Jen and Fin might not have made it to their airport in time, and if they have, Fin may be (b) asleep, (c) in a bad mood, or (d) cry when she sees this smelly, unshaven man shuffling toward her. But I can't help being so excited about seeing them again that I have to use the bathroom. In retrospect, I'm a little surprised I wasn't stopped by customs agents and internally searched.
Then I stand by the baggage carousel for an hour. It's not just me: the whole planeload of passengers waits and waits. Crappy Australian baggage handlers! I just know they're outside having a smoke break or reading their union pamphlet on workers' rights or something equally insignificant. Actually, bags are coming down the conveyor belt, it's just that there are about a thousand people waiting for them. It seems that a lot of planes have arrived at the same time.
I am seriously considering just leaving the terminal and worrying about how to get my bag later when finally—finally!—it appears. I collect it and, one security check later, am permitted to pass through the sliding doors into the main terminal. There is a huge horde of people waiting outside and I have no idea how I'm going to find Jen and Fin among them. Then I hear, "Max!" I turn and there they are, three-deep in the crowd: my beautiful wife Jen and Finlay in a sling on her chest. And then the most incredible thing happens, something I could never, ever put in a story because it is too far-fetched to be true: despite all these people and all this noise, Fin looks directly at me and gives me a big, gummy smile.

It's a choice between sleep and breakfast, and I go with sleep. I'm sorry for writing about sleep so much; it's just that it has become very important to me. I have realized that if I don't sleep, I don't do the things I need to on this tour well—things like talking to people. So a lot of my time is spent considering when I will sleep, and where, and for how long.
I'm met at my hotel by Rachel, who is my publicist at Doubleday. Rachel has been working for months at getting me reviewed, interviewed, and hosted all over the country: basically she organizes everything, then I just turn up and take all the glory. She is terrific, and great company as we are driven around Manhattan in one of those tinted-window town cars. (It's all tinted-window town cars here; that and cabs and stretch limos.) I ask her why there was no Chicago stop on this tour (which people keep asking me about), and she tells me it's because everyone at Doubleday hates Chicago. Okay, no, not really. It's actually something to do with the difficulty of booking enough media to justify the stopover. Which I think is fair enough, given the publisher is paying for all this. But I do let her know that if I don't get any Midwest stopovers on my next tour, people may hurt me.
First stop is WNYC radio. I've done enough radio interviews on this tour to be quite comfortable about it, but here the corridor I have to walk down to reach the sound booth is lined with posters of various celebrities with the tag line, "I'm a listener." I suddenly find myself confronted with the unnerving image of Sarah Jessica Parker reclining at home with the radio on, thinking, "Who is this Australian jerk?"
Despite that distraction, the interview goes well and then it's off for a round of bookstore drop-ins. These are becoming defined for me by the big titles currently out, especially Stephen King's Cell, which is front and center in practically every store I've visited. I hope that one day some struggling midlist writer on book tour looks at enormous piles of my books and thinks enviously, "That damn Max Barry! His new book is everywhere."
One of the bookstores I visit is St. Mark's, which I realize is the first store in which I ever saw a copy of my own book. Let me tell you, this is one of the most magical moments of becoming a published author. I'll never forget seeing Syrup sitting on the shelves, as if it was a real book. Of course, if St. Mark's held true to the general trend, they probably never sold that copy. It was probably returned to the publisher and pulped. But still. Magical, I tell you.
Next is a Barnes & Noble, and it's memory lane again because it's across from a park where I once played with some squirrels. I know, I know: to Americans—or, indeed, to residents of any country where there are squirrels—they are nasty little disease bags. But I think they're wonderful. I love the way they spring from place to place. I could watch that for hours. In fact, I have, and taken photos.
When I swipe my hotel card to get back into my room, it flashes red at me. I go back to the lobby and get a new card, and, when this produces no change, get security up to fix it. The security guy tries the card, and it flashes red… and he turns the handle, and it opens. Oh. I just assumed that red meant no go. Because this is a nice hotel, the security guy says carefully, "I guess it must have started working again."
I catch a cab to my reading and realize why there is so much honking of car horns in New York: it's all because of this one cabbie. He drives with one hand resting on the horn, tooting everyone, even if they're not doing anything special. He pre-emptively toots people he thinks might be considering something. And if someone dares to toot back, he goes nuts, firing off loud volleys of counter-toots.
My reading is at Rocky Sullivan's, a pub, and it's a full room even when I arrive. Before we start, I decide to go around and hand out the publisher-provided donuts, and I can see some people trying to figure out if I am really me. Some clearly assume I'm not, but rather just some wacko handing out donuts, then get embarrassed when they find out.
It's a very fun reading, and knowing it's my last one makes it a little poignant, too. I manage to read the sentence "Elizabeth's throat thickens" without messing up for the first time on tour. At last! It's a little victory.
Then, all of a sudden, it's over. I catch the subway back to my hotel, get a little lost, and now here I am. As much as I'm looking forward to getting home, I'm also kind of sad this is over. When I had the idea to do this travel diary, I honestly thought I'd be writing about the completely unglamorous job of trekking from city to city, visiting uninterested bookstores, and hoping desperately for more than five people to turn up to a reading. Instead it has been wildly more successful than I imagined. I can still hardly believe how rock star the whole thing has become.
Thanks so much to everyone who turned out in L.A., Mountain View, Seattle, Portland, and New York. You made this tour unforgettable for me.
Tomorrow I go home.